Bangor Computer Science Adds GitHub Accolade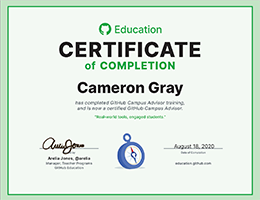 The School of Computer Science and Electronic Engineering and Bangor University becomes one of only seven UK universities with a resident Certified GitHub Campus Advisor.
Dr. Cameron Gray, the School's lecturer in Cyber Security and Computer Science Programme Lead, has received official recognition from GitHub as a Certified Campus Advisor. GitHub, now owned by Microsoft, launched in 2008 providing a source code hosting and software development platform based around the now industry standard Git versioning system. Their Campus Advisor programme provides free access to the platform for students and recognises educational commitment to modern tools and processes. "Bangor Computer Science's new programmes places an emphasis on industrial practices to equip our graduates with the skills they need for day one." Dr. Gray said. He adds: "This partnership with GitHub demonstrates our continuous commitment to world-class, relevant and modern Computer Science education."
Git, and the GitHub platform, has been integrated into the practical element of the all-new undergraduate curriculum on both the B.Sc. Computer Science programme and the M.Comp. Integrated Masters Computer Science programme. These two courses offer an industry-linked module "Business and Enterprise Programming" where students are instructed in software development best-practices. Those that wish to, can deepen the understanding of these tools and practices with a bespoke "Software Engineering" module in the third year of their course.
Bangor Computer Science is also proud to offer their B.Sc. Applied Software Engineering course as part of the Welsh Government's Digital Degree Apprenticeship scheme. "Our Applied Software Engineering course is intrinsically vocational and features a heavy emphasis on the real-world application of Computer Science skills. This new partnership, and the benefits it provides our students, will enrich the experience of our Digital Degree Apprentices too." Dr. Dave Perkins, the School's Director of Teaching & Learning said.
In addition to the academic benefits, students will now receive free premium access to all of GitHub's features as well as an exclusive "Student Survival Pack" which includes access to additional licenced software, exclusive discounts for tools and services, and the ability to demonstrate their commitment to responsible software development to employers. As the Campus Advisor, Cameron will be available to all Bangor students to help in using GitHub for their own projects as well. "I expect that some of the student societies, such as the MakerSpace Society within Bangor CSEE, will want to embrace this opportunity for their extra-curricular projects too. I'm eager to see how we can expand their horizons with the availability of these tools" he added.
Publication date: 18 September 2020