Bangor crowned mooting champions of Wales
A team from Bangor Law School has won the annual Welsh National Mooting Competition for the first time.
Aaron Clegg and Adam Gulliver, both students on the LLB Law programme, beat off stiff competition from Swansea University, Cardiff University, the University of South Wales and the Open University to reach the final round, which saw them go head-to-head with Aberystwyth University and finally clinch the historic prize.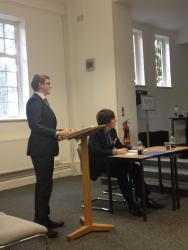 Aaron (left) and Adam in action
Under contention was a rape case which included both an appeal and a cross appeal. The appeal concerned whether or not the complainant had been deceived as to the 'nature or purpose' of the act pursuant to section 76(2)(a) of the Sexual Offences Act 2003, and the cross appeal examined whether or not pretending to be a famous sports star could constitute someone 'known personally' to the complainant pursuant to section 76(2)(b) of the Sexual Offences Act 2003.
Adam and Aaron, both 21, were delighted to win, and were extremely thankful to the Bangor staff who helped prepare them for victory.
"Being my first external mooting experience, this was always going to be a great opportunity, but it was truly amazing to get involved with, and even more so to win", said Aaron, from Oldham. "The judges were incredibly friendly and I would like to thank them for their guidance on the day. I would also like to thank Dr Yvonne McDermott and Stephen Clear for their support with mooting at Bangor, and of course my mooting partner, Adam. I would strongly encourage anyone interested in a legal career to get involved with future events."
Adam, from Whiston in Knowsley, added: "Aaron and myself were speechless when we were announced as the winners – it is definitely a day that will live long in both our memories. It was a great opportunity to network with seasoned practitioners who were able to provide us with detailed feedback on our skills.
"I would like to thank everyone at Bangor who has helped me develop my advocacy skills over the last few years, including Dr Yvonne McDermott, Dr Evelyne Schmid and Stephen Clear. I would also like to thank my moot partner, Aaron Clegg, for all his hard work and dedication."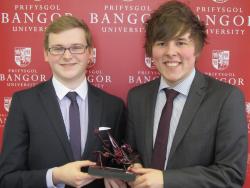 Aaron Clegg (left) and Adam Gulliver, champions of the 2014 LexisNexis Welsh National Mooting Competition.
Sponsored by LexisNexis, the Welsh National Mooting Competition pits student teams from Wales's law schools against each other in mock courtroom scenarios. Now in its sixth year, this year's final was hosted at the University of Law, Chester, by 2013 champions the Open University.
This victory is the latest in a line of Mooting successes for Bangor Law School students. In 2013, a team from Bangor became the first ever to represent Wales in the world-renowned Telders International Law Moot Court competition, making it through to the semi-finals. In the same year, Bangor also became the first Welsh law school to be invited to moot before the Supreme Court in London, and they returned there for the final of the 2013 School Moot. 2014 alone will see Bangor conduct eight internal school competitions, enter four national contests, and return to the Telders arena.
"Adam and Aaron's success is testament to the determination and professional attitude of our undergraduate school", commented Stephen Clear, Bangor Law School's Mooting Skills Coordinator. "For aspiring lawyers, employers are seeing mooting on your CV as less of a benefit and more of an expectation. Both Adam and Aaron have responded positively to this challenge in forming the Law School's third student group, the Legal Advocacy Society.
"Not only have they managed to juggle their studies with entry to fiercely competitive moots, they have also introduced, through the Legal Advocacy Society, more internal competitions than ever before in the history of the Law School. Both Aaron and Adam have competed in several of these competitions and have received amazing feedback from some of the highest judges within the legal profession, consistently coming within the top performing groups in the country. Bangor Law School congratulates both of them on their success as the unstoppable mooting team!"
Publication date: 10 April 2014