Bangor deliver fourth successive Varsity win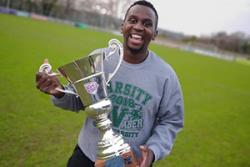 Tatenda Shonhiwa, VP for Sport, with the Varsity CupFor the fourth year running, Bangor University have won Varsity - the annual sporting extravaganza against Aberystwyth University - with an overall final score of 33-10 to Bangor.
Tatenda Shonhiwa, Undeb Bangor's VP for Sport, said: "This year has been an enormous year for Bangor's students. We should all be proud of what we have achieved as an AU as well as what we have done as our individual clubs."
He added: "Today we delivered yet another massive win against our friends from Aberystwyth, winning 33-10. This was one of our finest performances yet.
"Thanks to the facilities staff at each of our venues for such excellent playing conditions and to Bar Uno for sponsoring the event.
"I'd like to congratulate all of our teams and their squads – whether they played today or supported their teammates during their fixtures – as you have done yourselves, your Clubs, Undeb Bangor and Bangor University proud.
"I would also like to thank my Undeb Bangor Team and Bangor University Sport partners for such a fantastic day as well as St Johns, Storm, Seren and all of the volunteers that made this event a success."
Countless Bangor successes became the story of the day, with wins pouring in from early afternoon. By midday, Bangor already found themselves 9-2 in the lead.
Notable triumphs include Bangor MudDogs' 41-13 thrashing at the Treborth playing fields, Badmintons comfortable 8-0 in Canolfan Brailsford, and Swimming's 28-3 at the Pool.
Professor Carol Tully, Pro Vice-Chancellor (students), said: Professor Carol Tully, Pro Vice-Chancellor (Students), said: "With the sun shining, this was a fantastic day for sport in Bangor. We're very proud of our students and their impressive win on the tenth anniversary of this Varsity fixture. A big thank you too to everyone who was on hand to make the day a success."
Thanks to Seren for the information. Full score breakdown can be found here.
Publication date: 21 April 2018