Bangor Education Degree leads to further success for educational entrepreneur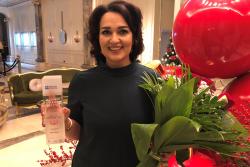 Ayan AliyevaThe Winner of a national Entrepreneurial Award attributes her success to a Bangor University School of Education Masters course.
Ms Ayan Aliyeva, of Baku, Azerbaijan, has been awarded the British Council Entrepreneurial Alumni Award for Azerbaijan.
In addition to being the founder and CEO of a highly successful and growing education centre, with several branches providing education in Baku, Ms Aliyeva has introduced modernising initiatives, such as professional development opportunities and mainstreaming pupils with special educational needs, both of which have had transformed Azerbaijani education.
She says:
"Studying at Bangor University had a paramount impact on the development and expansion of my business."
Beginning as a part-time teacher, Ms Aliyeva quickly became the owner of the language school where she worked, which was re-branded the A-Level Education Center. The Center now has six tutorial colleges and education abroad colleges across Baku. She is also Co-Founder of the University Foundation Center.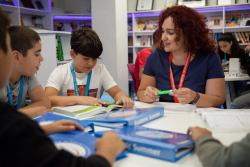 Ms Aliyeva with pupilsRecognising the value of continuing professional development, Ms Aliyeva followed a part- time MA in Education at Bangor University.
She says:
"Without exaggeration, the degree and the experience I got studying at the School of Education at Bangor University played a dramatic role in my business prosperity and in the development of a number of vitally important programmes in education for Azerbaijani society and the community I live in. In addition to growing my business, I drew up strategies and applied techniques to improve my schools, which benefit both the community and my business.
The most crucial achievement resulted from following the Special Education Module. Unfortunately, in Azerbaijan, as with most post-Soviet countries, awareness of autism and other special needs is very low. Children with special needs are outside mainstream education. Following the module at Bangor University, I decided to implement techniques and strategies to get students with special needs into the regular classroom."
Ms Aliyeva began training other teachers and holding workshops which began to change attitudes.
She says: "We have since had several students with a range of learning difficulties successfully integrated into mainstream classes."
Ms Aliyeva also appreciated the UK's focus on continuing professional development, and has intergrated this into her business.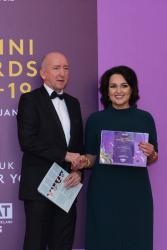 Receiving the AwardShe says the MA in Education led her to understand the role of the head of an education establishment as a leader who constantly has to work towards making a difference in society. Her degree in Education enabled her to develop her business, by improving the quality of education. As a result, she received numerous requests to share her learning, training other educationalists and sharing her insights through TED talks and other initiatives.
She is passionate about enabling children and adults to access education and share their learning. She added:
"My number one priority is to make education available to all levels of society. This is only possible if more students study abroad and share their knowledge and experience on their return."
Prof Carl Hughes, Head of the School of Education and Human Development, commented:
"We're delighted with the success and contribution to education of all our graduates, but to follow Ayan's achievements is particularly heart-warming. She has taken on her learning during her degree, and in particular the world leading work we do in Additional Learning Needs, and has striven to apply her knowledge to achieve change. We wish her every success in the future."
Publication date: 21 December 2018