Bangor foresters at Buckingham Palace
Bangor foresters Sarah Ellis and James Walmsley were privileged to attend a royal Garden Party in the grounds of Buckingham Palace recently, as a result of their work with the small charity Woodland Heritage. The foresters spent much of their afternoon exploring the extensive gardens, a 40-acre oasis in the centre of London and host to an impressive collection of specimen trees. They also enjoyed glimpses of members of the Royal family, including Her Royal Highness the Queen and His Royal Highness, Prince Harry.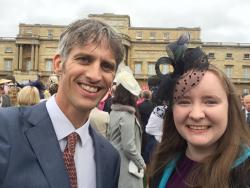 Dr James Walmsley and Sarah Ellis at Buckingham Palace
"It was a really special experience," said Dr James Walmsley, Woodland Heritage trustee and forestry lecturer at Bangor University. "To be able to attend such an event on behalf of the charity was a real honour. For many people, central London can be quite overwhelming but the gardens and their trees provided a sanctuary of calm and tranquillity for thousands of guests, as well as really valuable, permanent habitat for wildlife in a vast built-up area."
Bangor University student, Sarah Ellis, from Exeter, said "I was so surprised when this opportunity to attend a Royal Garden Party came up. I've really enjoyed working with Woodland Heritage over the last few years and I hope that this story inspires other Bangor University students to get involved with charities that reflect their interests and aspirations. It's impossible to tell what future opportunities this can create, as this experience has taught me."
Woodland Heritage has a long-standing relationship with Bangor University. It has supported dozens of Bangor University students in various ways since its inception in 1994 and funded a series of research projects investigating Acute Oak Decline, overseen by Professor James McDonald.
Publication date: 5 June 2019