Bangor goes Brazilian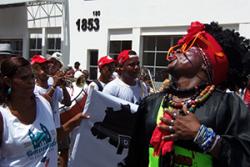 All eyes will be on Brazil this year, with the forthcoming football World Cup, but it seems that our interest in the country is not confined to football. Brazilian music and dance have grown in popularity over recent decades, and one Bangor academic has made this 'fashion' for 'Afro-Brazilian' music and dance a focus for his research.
And if watching the World Cup coverage from Brazil has whetted their appetite for all things Brazilian, then returning Bangor University Music students can chose to study a module on Brazilian music and culture.
Dr Jochen Eisentraut, whose book The Accessibility of Music was published last year by Cambridge University Press, is researching the adoption by Westerners of Brazilian cultural practices such as samba music, the capoeira martial art-dance, and Afro-Brazilian dance, and this feeds into his teaching.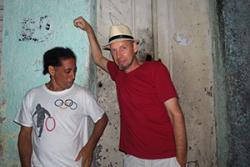 Dr Jochen Eisentraut (right) during a recent study visit to Brazil.Dr Eisentraut said:
"Brazil is a country of fascinating cultures, cities and landscapes. There is great beauty and wealth, but also terrible poverty and violence. Most of all though, I see it a part of the world which is full of excitement, energy and dynamism."
Dr Eisentraut is the first from Bangor University to gain a British Academy International Partnership and Mobility Grant (worth £10,000) which enables academics to link up with a University abroad for research and teaching. He has carried out fieldwork in the Brazilian city of Salvador da Bahia previously and the grant is helping him forge links with the Universidade Federal da Bahia, where he has given seminars and workshops, and participated in many discussions with students and staff.
Dr Eisentraut explained:
"Many people from Europe and North America have taken up Afro-Brazilian music and dance over the last 25 years. This is a fascinating example of cultural globalisation and dissemination against the predominant 'West to the rest' flow, and it is happening without corporate commercial involvement. Some Westerners become very expert in these practices and even end up teaching them to Brazilians. I am very interested in exploring what makes Brazilian culture so attractive, but I am also asking what it is we are lacking at home that makes people look so far afield for creative engagement."
Dr Eisentraut lectures at Bangor University's School of Music. Commenting on his teaching module on Brazilian music and culture, he said:
"This is a popular module with students because it introduces the students to something very different to the rest of their studies. They learn not only about the music, but also something about the history and politics of this increasingly important country which is one of the rising 'BRICS' nations. It is currently hosting the World Cup and the Olympics will take place there in 2016."
"I also teach an introduction to music cultures which gives students a taste of the incredible richness of the world's music. We look at Arabic, Japanese and Hungarian music for instance, and what they mean to people. We now have an exciting new collection of exotic instruments so the students will be able to get hands-on experience."
Publication date: 28 May 2014