Bangor graduate's documentary up for Royal Television Society award
A recent graduate of Bangor University's MA Filmmaking programme has been nominated for a Royal Television Society Student award, following a successful run of her short documentary film at national and international festivals. Charlotte Wells, from Manchester, has received the nomination for the highly-prestigious award for her short documentary film, 'Cabbie', mostly shot during a night's ride-along in her step-father's taxi. The short feature is very much a Bangor production, as in addition to being directed and edited by Charlotte, its score was composed by another recent Bangor graduate, Chiron Farrimond of the School of Music.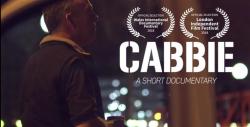 Despite being just under 5 minutes long, the film is nonetheless a powerful and intimate portrayal of the impact a decision for a change of career has had on the life on Pete, the taxi driver. His own voice-over narration lends an almost other-worldly quality to the feature as he drives along Manchester's night-time streets, seesawing from light-hearted anecdotes to more serious recollections of intimidation and violence at the hands of his passengers.
Reacting to the news that 'Cabbie' has been nominated for an RTS Student Award, Charlotte said:
"I'm beyond thrilled! It is a huge accomplishment to be selected and in the running for the award and I'm a little overwhelmed by the nomination. It feels incredible to know that Cabbie is appreciated, especially when so much hard work went into it. I can't wait to head down to London and meet with other students and see the films which they worked on. I feel extremely humbled by all the good news and I'm excited for the journey that I'm currently on.
Charlotte's success was congratulated by Joanna Wright, Course Director for the MA Filmmaking programme at the School of Creative Studies and Media, who said:
"The 1 year MA in Filmmaking is a diverse practice-based course that prepares students for professional practice. Our students have regular opportunities to engage with industry and communities outside of the University, and Charlie's film is a great example of the storytelling and technical skills she developed on the course. We're really proud of the success she's achieved and wish her all the best at the awards and beyond."
The Student Television Awards are for student television work that shows outstanding visual and aural creativity, a mastery of craft skills, innovation, initiative and story-telling. The awards will be presented on Friday 22 June 2018 to reward outstanding work produced during the 2016 / 17 academic year.
'Cabbie' can be viewed here: https://vimeo.com/220934840
Publication date: 22 May 2018