Bangor Graduate's Social Learning Platform Employs Bangor University Graduate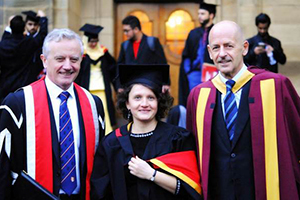 Polina Cowley, photographed with University Vice-Chancellor Professor John G Hughes and Prof John Thornton after her graduation.Polina Cowley, MBA Information Management graduate has set up LearnerNet, an Innovative social learning platform aimed at students in Higher Education.
Polina's previous experience of lecturing in digital photography at Coleg Harlech and an MBA in Information Management from Bangor University has, with the help of Business Wales and the Accelerated Growth Programme combined, lead to the development of LearnerNet. Through the Santander Universities Internship programme she has now taken on a third year Bangor University Informations Systems graduate, Matthew Yeend, to assist with the business.
Registered in February 2016, LearnerNet has a mission to give students an opportunity to learn naturally using options such as gamified revision tools, competing opportunities, socialising and study related visits. On the teaching side it enables tutors to assign ready-made digitally assessed homework, review students' progress, arrange competitions and visits.
Polina says of her venture:
'It is unique in its field, offering safer online socialising for educational enterprises, students and tutors unlike existing Virtual Learning Environments (VLEs) which don't encourage cross-enterprise communications. Another feature is a choice of ready-made social gamified revision and homework tasks rather than isolated traditional formal individual learning. Learning materials are personalised with this system in contrast to traditional methods where students are all required to learn the same material within a subject'.
The Welsh Government funded mentoring provision through B-Enterprising at Bangor University has proved to be highly beneficial to Polina in starting her own business.
She says of the service:
'It was life-changing; the mentor assigned to the project there, Chris Walker, is an inspirational businessman with passion for innovation and entrepreneurship. He has a very positive attitude towards encouraging people, while at the same time, highlighting possible pitfalls. I also received very constructive support from Business Wales and from the Accelerated Growth Programme'.
In 2015 Polina also benefited from her participation as a postgraduate facilitator for Enterprise by Design at Bangor University. 'It was a breath of fresh air: something exciting and different. A big change from passive learning in lecture halls, lonely revision and endless essay writing. It's a good example of more natural social learning which involved watching others and discussing ideas with fellow students, lecturers and experts in a friendly atmosphere. One of the most memorable events of the whole year. I also took part in the 'Innovation Station' start up school run by B-Enterprising in the summer of the same year - there were lots of different entrepreneurial exercises which gave me an opportunity to practice leadership skills – something which wasn't available in the course of my regular studies'.
B-Enterprising activities are part funded by the Welsh Government to support the delivery of the Youth Entrepreneurship Strategy (YES) for Wales.
Publication date: 29 July 2016