Bangor in top 200 World Rankings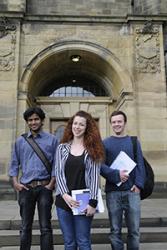 Bangor University features among the world's elite institutions in a newly published league table. The University is listed in the top 200 universities for four of the 30 subjects featured in this year's influential 'QS World University Rankings by Subject' (www.topuniversities.com).
Bangor's Vice-Chancellor, Professor John G Hughes, welcomed the news saying:
"Bangor University really makes its presence felt around the globe. The University provides education and research of high quality which makes a valuable contribution both regionally and on the world stage. This table reinforces our increasingly international reputation."
Agriculture & Forestry, English Language & Literature, Linguistics and Psychology are the subjects at Bangor University that are listed among the top 200 worldwide. Both Agriculture and Forestry have been taught and researched at Bangor for over one hundred years, with Forestry celebrating its 110th anniversary this year. The subjects form key academic components of the School of Environment, Natural Resources and Geography.
Celebrating its 50th anniversary this year, the University's School of Psychology, has one of the largest student bodies in the UK and recruits research lecturers from among the best in their fields on a global scale. Psychology and Linguistics have appeared in the Table since the rankings began in 2011, while English Language & Literature are appearing for the first time.
The QS Subject Rankings were launched in 2011 and provide a guide to a range of popular fields of study in universities around the world. The compilers evaluated 2,809 universities and ranked 1,344 institutions in total, based on the combined responses from academics and employers around the world, as well as citations measures.
Publication date: 28 February 2014