Bangor Law School contributes to 'Big Voice London' Project on legal identity
Bangor Law School welcomed a group of young people from London for a conference at the University in November 2012. The students from the Big Voice London project were researching aspects of legal identity and had a specific interest in the legal tradition in Wales and the Welsh language. Their visit contributed to the Big Voice annual report which was launched at the House of Commons on International Human Rights Day, December 10, 2012.
During the conference, presentations were given by Meri Huws, the Language Commissioner, and District Judge Owen Williams from Caernarfon County Court. Some of the Law School's lecturers and staff, including Mr Aled Griffiths, Dr Osian Rees, Carys Aaron and Huw Pritchard, also shared their expertise in the area.
'Big Voice' is a youth empowerment project run by postgraduate students and volunteers with support from the Supreme Court and Lexis Nexis. They work with young people from disadvantaged backgrounds to explore issues of legal identity and fundamental rights. Three groups focus on the law and legal issues from different perspectives such as Law and Diversity, Legal Agency and Legal Heritage, and each prepares a report at the end of the year.
Following their visit the Legal Heritage group published a report on Legal Identity and Welsh Language Rights, which built upon what they had learned during their visit. The three reports were published bilingually with the support of Bangor Law School and Lexis Nexis.
"This year, we have been delighted by the opportunity to learn about Welsh language rights and the impact of devolution on the Welsh legal system" said Jennifer Blair, Big Voice Co-ordinator. "The highlight of our year has been the visit to Bangor University. We were incredibly inspired by the passion, intelligence and welcome we found at the University and we are keen to take the ideas shared with us forward into our work in future."
Huw Pritchard, a doctoral student at Bangor, was pleased that the School was able to contribute to the project. "It was a pleasure to be able to welcome students from Big Voice to Bangor and to have the opportunity to discuss these issues with a new and enthusiastic audience. They have succeeded in producing a very interesting report which deals with matters which are very relevant to the discussion in Wales at the moment. It was also a pleasure to have the Language Commissioner and District Judge Williams at the conference to share their valuable experiences."
The Big Voice 2012 reports can be seen online by following this link: http://bigvoicelondon.org/2012/11/06/international-human-rights-day-and-accessing-justice/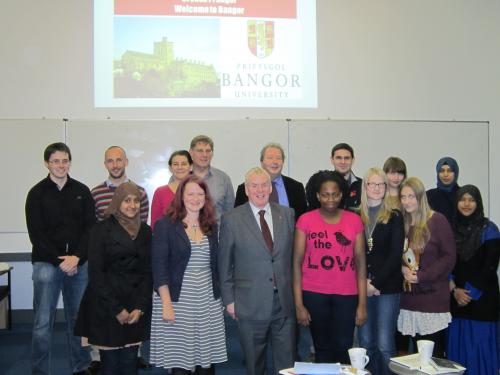 Students from the Big Voice London project with District Judge Owen Williams (front centre) and Bangor's Huw Pritchard, Dr Osian Rees, Gwilym Owen and Aled Griffiths (back row from left).
Publication date: 9 January 2013