Bangor Law School recognised for its support of international students
Bangor Law School recently celebrated another night of teaching award success at this year's Student Led Teaching Awards (SLTA).
Organised annually by the Student Union in conjunction with the University, the SLTAs afford students an opportunity to nominate any member of staff in a range of categories from "Support Staff Member of the Year" to "Teacher of the Year." This year nearly 300 nominations were received, spanning the full range of staff positions and departments.
Three members of Law School staff were short-listed for awards this year, namely lecturers Dr Marie Parker and Stephen Clear in the 'International Award' category, for their work with the Legal World Series, and for the pastoral care and support of international students; and Li Ling Tang, International Relationships and Programmes Officer,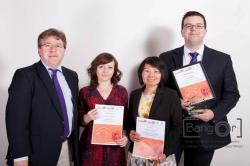 L-R: Head of School Professor Dermot Cahill, Dr Marie Parker, Li Ling Tang and Stephen Clear at the 2015 SLTAs.in the 'Support Staff' category, for aiding and welcoming new Masters and postgraduate law students to Bangor.
Although both categories were fiercely competitive, the Law School staff made the final six in each of their respective categories.
All three members of staff attended the awards dinner in Pritchard Jones Hall with Professor Dermot Cahill, Head of the Law School, and Senior University staff, including the University's Vice Chancellor, Professor John Hughes.
On the night, Stephen went on to win the International Award, with the reasons for his award success being given by his students as:
"He makes a conscious effort with international students to understand how they are finding Bangor. He enhances their student experience by having an open door policy to answer any questions they may have, no matter how big or how small."
"Stephen promotes internationalisation and awareness of different cultures, religious beliefs and nationalities."
"He has an amazing ability to recognise students who may be struggling and encourages the use of support services, or engagement in Student Union clubs and societies."
Stephen was presented with his award by Professor Oliver Turnbull, Pro-Vice Chancellor for Teaching and Learning, and representatives from the Student Union.
Professor Dermot Cahill, Head of School, said: "It is great to see dedicated staff having their contribution to students' welfare and intellectual formation recognised by this Awards Ceremony. I am always amazed by the level of support and encouragement that our students receive from staff here at Bangor University: it is the hallmark of 'the Bangor way' where staff are always at hand to support, encourage, and motivate the students to achieve excellence in whatever endeavour they are engaged in at the time, whether it be Mooting, Public Engagement, student activities or simply their studies. Having talented colleagues like Stephen, Li and Marie its a pleasure working here a Bangor, not just for the law students but also for their colleagues as well."
Publication date: 20 May 2015