Bangor Law School teams up with Amnesty International for Armed Conflict training
On Saturday 7 July 2012, Bangor Law School and Amnesty International (Colwyn Bay) held a successful training day on the protection of women and children in armed conflict. Held at Bangor University's Reichel Conference Centre, the event drew participants from the Bangor area and beyond, including from Colwyn Bay, Liverpool and Lancashire. The training team included Mrs. Judith Bellis of Amnesty International (Colwyn Bay), and from Bangor, the trainers were Ms. Evelyne Schmid, Ms. Yvonne McDermott and Professor Suzannah Linton.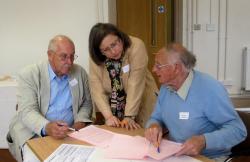 Professor Linton and two workshop attendees in animated discussion.
The workshop raised awareness of the challenges faced by women and children in armed conflict, and introduced the legal regime that exists to address these challenges, its strengths and weaknesses. The day saw, among others, discussions on fundamental principles in the law of armed conflict, Uganda and child soldiers, the International Criminal Court, protection of human dignity in armed conflict, using international mechanisms, and underscored the importance of education, respect for the human person, and prevention and protection as first lines of defence against atrocities. The event was designed to engage participants in practical application of knowledge and strategies, and was interactive.
"This has been an excellent event, and with the establishment of our new Bangor Centre for International Law at the Law School, marks what we hope will be an active engagement in humanitarian issues in these parts", said event organiser Professor Suzannah Linton. "We look forward to future collaborations with Amnesty International and other groups."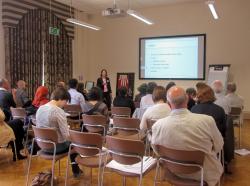 Ms. Evelyne Schmid presenting
Feedback from participants was enthusiastic:
"This has been a superbly well organised and presented workshop, excellent balance between presentation and 'class activities'. Cannot think how you could improve it, sorry! Hoping for more…"
"I just wanted to say how much I had enjoyed yesterday…. I thought the organisation, content and delivery were excellent from you and all your colleagues. I am looking forward to another similar event, hopefully in the not too distant future."
"All trainers were knowledgeable and very clear".
"Excellent trainers – approachable and not intimidating for the non-law students!"
"Opened up a whole new field of knowledge, very helpful".
Publication date: 18 July 2012