Bangor lecturer named as one of the best in the UK
Congratulations to Bangor Law lecturer Sarah Nason, a worthy finalist in the OUP Law Teacher of the Year competition.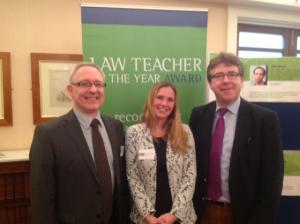 Law Teacher of the Year nominee Sarah Nason with judge Prof. Julian Webb (left) and Prof. Dermot Cahill, Head of Bangor Law School.
Although the prize was eventually clinched by Luke Mason of Surrey University, the competition was closely fought, and all six finalists were commended for the outstanding quality of their teaching.
This year, the contest saw a record number of nominations from law students at institutions across the UK. The final six were then visited by a panel of judges, who observed them teaching and spoke to their students and colleagues.
"I am absolutely bowled over at having been shortlisted, and of course very grateful to the students and colleagues who took the time to nominate me", said Sarah of her nomination. "I have always tried to balance my teaching between preparing students for exams and for the real world of legal practice. The shortlisting is really a reflection of the generosity of Bangor law students and the high quality of teaching provided by colleagues across the Law School."
Visit https://www.youtube.com/watch?v=E6LtaEzBA98 for a video introduction to each of the nominees.
Publication date: 26 March 2014