Bangor MBA graduate launches Nigerian book
Bangor Law School played a major role in the launch of an influential Nigerian book. The book, written by a recent MBA Graduate in Law and Management, Air Vice Marshall Francis Bassey entitled 'Corporate Governance in the Nigerian Airline Industry', was an adaptation of Francis' post - graduate dissertation. The book, published by a leading Nigerian publishing house, Fourth Dimension, was launched in Abuja last week and commended as a must read for industry practitioners, investors, policy makers, students of corporate governance, and the general public.
The launch was attended by leading stakeholders in the industry and was covered by major Nigerian news channels. Mr Aled Griffiths, Hon Bangor Research Fellow at Bangor Law School, was one of the key speakers at the launch during which he commented that the book highlights the need for major law reform including the possibility of an industry-based Code of Practice.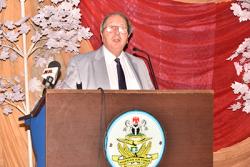 Mr Aled Griffiths
"I am highly indebted to Mr Aled Griffiths whose expertise, amiable disposition, encouragement, generous guidance and genuine interest made it possible for me to explore this novel topic," said Francis.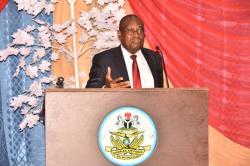 Air Vice Marshall Francis Bassey during the launch of his book
The event was organised by a fellow Bangor Law School alumni, Professor Emilia Ezenwa, who completed her Doctorate at Bangor Law School. Francis hopes to follow the same pathway and register for Doctoral study at Bangor University.
The Nigerian Air Force will be sending three further officers to Bangor University to study Masters in Law this autumn.
Related documents:
Publication date: 20 September 2019