Bangor Medical Sciences new agreement with Graduate Medicine at Cardiff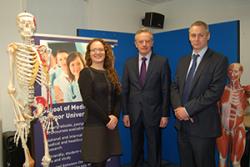 Bangor Medical Sciences new agreement with Graduate Medicine at CardiffBangor University and Cardiff University have signed an historic progression agreement for Medical Sciences (BMedSci) graduates from Bangor to the MBBCh Medicine programme at Cardiff. Each year students (up to a maximum of 10) who reach the threshold eligibility criteria will be guaranteed an interview for the 4 year graduate entry MBBCh Medicine programme at Cardiff. The aim of this agreement is to support the widening participation agenda for Medicine and to also support Betsi Cadwaladr University Health Board (BCUHB) in its efforts to increase the recruitment of Doctors into the NHS in north Wales.
Mr Dean Williams, Head of the School of Medical Sciences at Bangor University and Consultant Vascular Surgeon at Ysbyty Gwynedd, said: "This agreement is an important development for the School and north Wales. The quality educational experience and high standards of the BMedSci course will prepare our graduates for medicine or other related science careers they wish to pursue."
The Medical Sciences (BMedSci) programme at Bangor is in its second year. This agreement will allow the first set of graduates the opportunity to progress onto the second year of the medicine programme in 2015. Bangor University's Medical Sciences degree will give an excellent knowledge base for students hoping to progress to Medicine but is also of considerable interest to students interested in other medical and science related careers. Dr Nichola Callow, Dean of the College of Health and Behavioural Sciences at Bangor University said: "Students' benefit from teaching and research expertise across a number of University Schools and BCUHB, thus providing students with unique interdisciplinary learning opportunities to develop their knowledge and transferable skills."
The agreement was signed on behalf of Bangor University by Vice Chancellor, Prof John G Hughes who commented: "This is a great example of how Bangor and Cardiff universities can work together to address issues of vital importance to Wales. This agreement provides a greater opportunity for students to enter medical education​, as well as encouraging medical trainees to consider north Wales as a place to train and work. It will also assist in meeting the need for Welsh-speaking doctors and other clinicians."
Although it will be several years before students progressing from this agreement are qualified, BCUHB will benefit from attracting clinical staff wishing to participate in the teaching and research activity associated with this development.
Cardiff University Vice-Chancellor Professor Colin Riordan commented:
"Cardiff University welcomes this agreement with Bangor University and Betsi Cadwaladr University Health Board, which will serve to strengthen further the links between our institutions. This is an exciting initiative which increases the opportunities for students in North Wales to study medicine at one of the UK's leading medical schools. Our medical students already spend much of their clinical training time in North Wales and will act as role models and mentors for students transferring to Cardiff from Bangor's medical sciences programme."


Publication date: 13 March 2014