Bangor pioneering a new approach to training Counsellors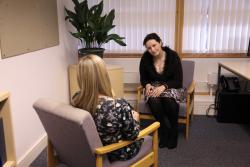 Dr Fay Short, Programme LeadOne in four adults experience mental health difficulties in any given year, and mental health issues account for the largest single cause of disability in the UK. The NHS has pledged to invest more than one billion pounds to transform mental health care across the UK. Bangor University is delighted to respond to this increased need for trained counsellors with the introduction of a Masters in Counselling. This exciting course provides a new opportunity for therapeutic training in North Wales and aims to create a new generation of counsellors to support those in need.
Dr Fay Short, leading author of 'Core Approaches in Counselling and Psychotherapy', has developed this new course in collaboration with Susan Critchley at Coleg Llandrillo. The course is based in the highly ranked School of Psychology at Bangor and will be delivered by award-winning teachers and experienced counsellors. Maggie Griffiths, Assistant Principal of Grwp Llandrillo Menai said "We are delighted to be working in partnership with Bangor University on its new MSc Counselling programme: The partnership will combine the college's vocational expertise and advanced skills in professional counselling with the academic excellence that the university offers in this exciting new programme."
This course will prepare graduates to become professional counsellors. It will explore many psychological approaches and therapeutic methods to provide holistic training in counselling. Students will learn about the Humanistic approach and Person-Centred therapy, Psychodynamic approach and Psychoanalytic therapy, Behavioural approach and Behaviour therapy, and Cognitive approach and Cognitive therapy. They will also be introduced to several integrative approaches, such as Cognitive Behaviour Therapy and Rational Emotive Behaviour Therapy. Students will attend lectures, watch demonstrations of therapy in action, participate in workshops simulating counselling and supervision, and debate important and controversial issues in modern therapy.
This two-year course also provides a unique opportunity to study other psychological subjects in the second year, and these optional modules may include courses in Mindfulness, Clinical Psychology, Neuropsychology, and Applied Behaviour Analysis. This additional specialised training will give students an extra advantage as a counselling graduate. The integral research project, many of which will be completed in collaboration with the NHS in real world settings, will provide graduates with the increasingly essential skill of being able to test their interventions and evidence their positive impact on clients.
Alongside the academic work, all of the students on this course will take a counselling placement to gain real world experience of face-to-face counselling. Many of our students will complete this placement in the NHS Counselling Service and other students may work with charity and volunteer organisations. In addition to learning how to counsel real clients, this experience will give the students a behind-the-scenes look at the practical world of counselling.
With a solid foundation in Psychology and Research, graduates of this course will have all the skills they need to work in an empirically-based counselling practice, such as the health service, schools and colleges, or private practice. This course will also be an ideal choice for students who want to develop their counselling knowledge and skills to use in teaching, healthcare, fostering, or social work. It also fits in with some of the priorities set out by the Welsh Government in legislations such as the Wales Future Generations Act.
The MSc Counselling can accept graduates from a variety of backgrounds including (Psychology, Sociology, Health & Social Care etc.) and applications are now being accepted for September 2017 entry.
Publication date: 21 March 2017