Bangor Poetry Season announced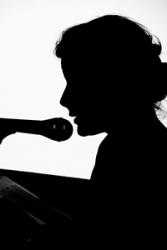 The third annual North Wales International Poetry Festival presents the Bangor Poetry Season, a series of readings and performances running throughout October 2014 (1-24th).
Events will take place in Bangor University and at venues around the town, including Bangor Pier and shops on the High Street. International poets will perform with translation alongside Welsh writers in both languages, creating new contexts for some of the most exciting voices in contemporary poetry from Serbia, Poland, China, Cuba, the Czech Republic and Slovakia. In contrast to these voices, Czech poet and artist Martin Zet will be exploring aspects of silence in several events in and around Bangor. His performances will include liberating print from the page and inviting audiences to listen to some unusual locations.
Dr Zoë Skoulding of Bangor University's School of English, who directs the festival, said:
"Despite Wales's important traditions of poetry and music, we live in a global culture that is increasingly dominated by the visual. Poetry invites us to listen differently, not only to words themselves but also to the spaces between them. This festival allows audiences to hear the distinctive sounds of different languages, along with translation so that everyone can follow. As well as translation between languages, there will be performances where poetry crosses the borders of different art forms such as music and film."
The festival is supported by the Arts Council of Wales, the Czech Centre, Arc Publications, Bangor University and the Whistlestop Café.
Publication date: 3 September 2014