Bangor Professor elected a Fellow of the British Academy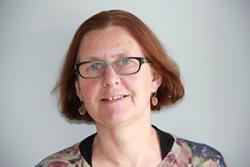 Prof Nancy Edwards, FBAAn eminent historian and archaeologist from Bangor University has been made a Fellow of the British Academy.
Nancy Edwards, Professor of Medieval Archaeology at Bangor University's School of History, Welsh History & Archaeology receives the Fellowship, which is the highest honour in the UK for a scholar of the arts and humanities, in recognition of her outstanding contribution to research in archaeology. She is also the only academic from a Welsh university among this year's new Fellows.
Each year, the British Academy elects to its Fellowship up to 42 outstanding UK-based scholars who have achieved distinction in any branch of the humanities and social sciences. In the words of the British Academy, fellows are scholars who have 'attained distinction in any of the branches of study which it is the object of the Academy to promote'.
Prof Nancy Edwards' research focuses on the archaeology of Wales and Ireland in the early medieval period. Her particular interests include inscribed stones and stone sculptures and the archaeology of the church.
Prof Edwards has published widely, her most influential work including her two volumes on the early medieval inscribed stones and stone sculptures of Wales (Corpus of Early Medieval Inscribed Stones and Stone Sculptures, Volume III, North Wales and Volume II South-West Wales), a valuable work documenting ancient monuments, many of which are not even protected. She has recently conducted major archaeological work to understand the complex historical and archaeological context of the ninth-century Pillar of Eliseg near Llangollen.
Nancy Edwards is a Fellow of the Learned Society of Wales, a Fellow of the Society of Antiquaries and has served as a member of several public bodies to advise on archaeology in Wales.
Professor Andrew Edwards, Dean of Arts and Humanities at Bangor University commented:
"I am delighted that Nancy's substantial and significant contribution to archaeology has been recognised by the British Academy with this prestigious award. This is a much deserved reward for an academic who has worked tirelessly to promote the development of her discipline in Wales and beyond. This award clearly reflects Nancy's standing as a world–leading authority on Welsh and Irish Archaeology."

Publication date: 15 July 2016