Bangor Psychology Students have Big Ideas
Two aspiring entrepreneurs from the University's School of Psychology were among only 50 16-24 year olds from across Wales selected to take part in the 'Big Ideas Wales Challenge' recently.
The Big Ideas Wales Challenge aims to identify and support Wales' young entrepreneurs of the future.
The two Bangor University Psychology students were selected for an 'Entrepreneurial Boot Camp' in Bluestone Resort, Pembrokeshire recently.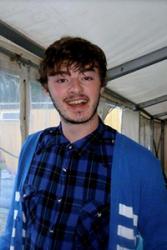 Liam Meagher at the 'Boot Camp'.Liam Meagher, 21, from Runcorn, who is studying Clinical & Health Psychology and is in his 3rd year, came across the scheme on Facebook whilst Luke Cleverly from Worthing, who is studying Psychology and is in year 2 first found out about the competition through the University's Careers & Employability Service B-enterprising team. Although their ideas are very different both students won through the Dragons Den style audition at Llandudno to be awarded places at the boot camp weekend.
The weekend consisted of guest speakers, lectures and workshops based on how to develop, maintain and ultimately transform an idea into a real, money making, and successful business. There were opportunities to network with many Welsh entrepreneurs and gain valuable knowledge, contact details and important pledges of support from the various business in the form of invested money, time or work experience. Following the event there will be monthly board meetings with several other young entrepreneurs and business mentors to assess the progress and potential issues ahead.
Liam said: "Ultimately the experience was one that was incredible useful and inspiration and I am extremely happy that something so life impacting and memorable, came from one of my many procrastination sessions of scrolling my Facebook newsfeed."
Liam's idea is an excellent example of how students are engaging the local community and was to generate a space and organisation (The In Youth Revolution - TIYC) designed for the young people of Bangor. The aim is to give young people the chance to take control of a piece of their community by helping run and take part in both fun social events and is as much about social benefits as financial ones.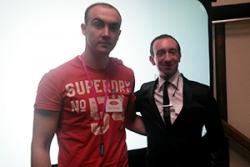 Luke Cleverly with Sheridan Simove, a serial entrepreneur, motivational speaker and Channel 4's commissioning director of Big Brother in 2003.Luke is not yet able to discuss his idea for commercial reasons. He said this about the event:
"The biggest thing I learnt from the weekend was to do with the nature of successful entrepreneurs; at one point or another a huge amount of them were considered crazy or even absolute failures by the others surrounding them, and if they had listened to these naysayers they wouldn't be where they are now. The second biggest thing I learnt is that nothing great is ever achieved without hard work."
Commenting on why he chose to study at Bangor, Liam says:
"I choose Bangor University based on having spent a lot of my youth in north Wales taking part in volunteer work and youth events with a charity called Young Life international and I fell in love with the beautiful country. So when looking into Universities at the end of my A-level studies, I was looking into further studying psychology (my favourite and highest grade A-level), my A level teacher mentioned that she used to go to Bangor University and after some research I found it to be one of the leading institutions in the psychological field. So after one open day visit and a very charming introduction to studying at Bangor talk from Guillaume Thierry, I was sold.
Luke says: "I chose Bangor University for its psychology department which is one of the best in the country, its location in the Snowdonia mountains and the size of the town which means I can spend time pursuing my favourite hobbies (weightlifting, reading etc.) instead of travelling on public transport to attend university lectures."
Publication date: 5 February 2014