Bangor Psychology Students have the opposition licked! - Test Town 2014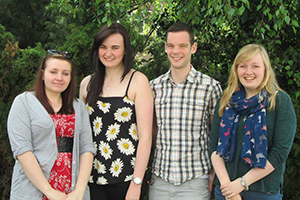 Left-right are team members: Louise Ainsworth, Kate Isherwood, Dan Taylor & Emma Dixon. A team of students are celebrating this week after being selected to take part in Test Town 2014.The team consisting of three psychology undergraduates - Daniel Taylor, 23, from Salisbury; Emma Dixon, 21, from Nottingham; and Kate Isherwood, 21 from Penwortham– as well as Consumer Psychology and Business master student Louise Ainsworth, 20, from Bedford, will be given an empty shop in Rhyl High Street and the goal of setting up a viable business in just one week.
Test Town is a nationwide competition run by the Carnergie UK Trust that allows young, enterprising individuals to run pop-up shops in one of eight towns across the UK. These pop-up shops have the aim to educate the participants but also inspire the population and get Britain's high streets thriving once more. Launched only last year as a pilot scheme, Test Town has already caused much interest amongst individuals and organisations alike with 400 young adults applying to take part in the scheme this year.
Bangor University's team was selected due to their idea of 'Rhyl Scoops'; an ice cream parlour with clear ethos of a social enterprise. The business will open selling a range of freshly made ice-cream with the long term plan being to create a business that trains up their employees with hospitality NVQs, supports other local businesses and is also a social space to relax and reminisce about tales of Rhyl, past and present.
"We really wanted something that would not only bring back the nostalgia of the 'Great British Seaside' but also help and reward the local people of Rhyl. It feels amazing that what was once just an idea will actually become an operating business in just a matter of weeks." – Emma Dixon

Bangor University's team will be competing against four other teams at the Rhyl Test Town week running from the 23rd to the 30th June, with the winning team later going on to a final in another, yet unannounced, town with a chance to win £10,000 towards a business start-up. As part of the initial seven day event the team will also partake in a two day enterprising training scheme followed by a day to finally get the keys to their new stores and start decorating with the aim to be up and running from the 26th June until the 29th.
Professor James Intriligator (Director of Bangor's master programme in Consumer Psychology and Business) said: "I am incredibly proud of this team. Their passion and creativity seems to know no bounds. A month ago they went off to the Flux business challenge, took second place, and came back with an appetite for more challenges. They work really well together as a team, and I am certain they have a great shot at winning the whole £10k sundae."
"The fact that we are not business students means that these competitions are challenging yet we stand out and bring something new to the table. We're all very enthusiastic about our biggest challenge yet and the continuing skills we are learning." – Louise

The team have already been hard at work setting up online channels to record their adventure and also advertise their business including their 10% discount for all students. You can follow their progress via their blog www.rhylscoops.wordpress.com or by following 'Rhyl Scoops' on Facebook or Twitter.
The B-Enterprising team within the Careers and Employability Service at Bangor University are committed to encouraging and promoting this type of enterprising activity, with the support of the Welsh Government's funding for Regional Hubs.'
Publication date: 7 May 2014