Bangor Psychology students pitch for victory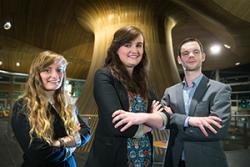 Team Ignite at the Senedd building in Cardiff for Brolio / The Pitch finals.For the fourth year running Bangor Psychology MSc students took part in the finals of the Brolio/The Pitch 2015, held at the National Assembly recently. Brolio/The Pitch is organised by the Chartered Institute of Marketing and part funded by the Welsh Assembly Government and gives students the opportunity to 'pitch' their ideas in a prestigious marketing competition.
The final team consists of three Psychology masters students; Daniel Taylor, MRes Psychology, from Salisbury, Kate Isherwood, MSc Consumer Psychology and Business, from Preston and Rhi Willmot, MSc Consumer Psychology with Business, from Kent. The three members have a solid background in psychology having all completed their undergraduates in the subject at Bangor. They responded to this year's brief to formulate a marketing campaign, trying to introduce superfast broadband into rural Wales. Using their extensive knowledge of emotional decision making, the team played on the fact that 'emotion sells' to creating a marketing campaign based around frustration to create both a presentation and visual aids.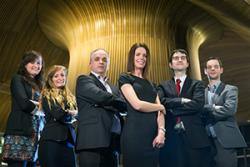 Here with the Competition Judges Meilyr Ceredig, Managing Director at FBA, Jade Tambini, European Marketing Manager at DS Smith Recycling, and Adam Butcher, Head of Policy and Communications at Superfast Cymru. Kate Isherwood, detailed the brief as "difficult, but thoroughly enjoyable. It allowed us to use both our Psychological and Business knowledge."
Rhi Willmot said: "The Pitch has been a great opportunity to put our psychology skills into practice - we have focused on creating an evocative campaign and used psychological research to support it."
They were among the 12 teams of three students from further and higher education in Wales pitching their ideas to a brief set them by Superfast, in accordance with BT and the Welsh Government. The teams had to respond to a detailed brief and consider budgets, messaging and marketing tools in their presentations, showing their understanding of a real-life business scenario.
Prof James Intriligator, a Consumer Psychologist at the University's School of Psychology said:
"Our amazingly strong team did well. All three team members gave their best having worked very hard on their pitch. The passion and excitement demonstrated by these talented students is nothing short of awesome."
Publication date: 9 February 2015