Bangor RAG Donations 2013
Volunteers from Bangor University RAG, a group within Student Volunteering Bangor recently made their annual awards of funds to their four chosen charities. At the beginning of each academic year, the group, who hold numerous fundraising events throughout the year, choose 4 charities for which to fundraise.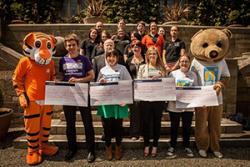 Representatives from some of the charities who benefited from funds raised through the year by Bangor University RAG receive their cheques.This year, the charities which benefitted from RAG's support were Kidscan, Ty Gobaith/Hope House, Bangor University Nightline and Dementia UK and after several months of successful fundraising, each group was awarded £1392.
In addition, RAG volunteers have helped raise funds for a number of other charities including the Poppy Appeal, Marie Curie, Concern Universal, Vitligo UK, the Everyman Campaign, the Breast Cancer Campaign, Athritis UK and Barnardos, raising a grand total of £9,496.46.
Numerous large scale and small scale events were held throughout the year and included a Harry Potter theme night, virtually cycling across the Gambia and several street collections in and around Bangor.
Any local charity wishing to be considered for support from Bangor University RAG in the next academic year, should write to RAG, The Students' Union, Oswald's, Victoria Drive, Bangor, LL57 2EN providing as much detail as possible about their organisation or fund no later than October 31st 2013. More information can be accessed from the Student Volunteering Bangor Office on 01248 388021.
Publication date: 24 July 2013