Bangor's Arthurian expertise sought by National Geographic's Ancient X Files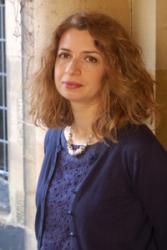 Dr Raluca RadulescuThe makers of National Geographic's Ancient X Files series turned to Arthurian expert Dr Raluca Radulescu at Bangor University's School of English when they wanted to explore the myths and legends relating to King Arthur and the Knights of the Round Table.
According to the programme makers: "In the modern information age, you'd like to think you have all the knowledge in the world at your fingertips – yet some shocking secrets remain buried deep in the past."

The series investigates tantalising unsolved mysteries from the ancient world, and takes leading experts on their journey of discovery to share the breadth of their knowledge, their insights and theories with the viewers.
The programme, The Sword in the Stone, being broadcast on Tuesday 17 July at 9:00PM - National Geographic Channel with repeats on Wednesday 18 July at 1.00 am and 7.00 pm investigates the legend about the sword in the stone, its connection with King Arthur, and in particular the possible origins of the story in an unexpected location.
Dr Radulescu, a renowned expert on Arthurian literature, who has been teaching and researching the legend for over seventeen years continues Bangor's long-standing tradition of excellence in this area of research. Bangor's MA in Arthurian Literature, coordinated by Dr Radulescu, is the only one of this kind in the world and represents a platform for exploring the multi-faceted myth and its enduring presence in the modern world.
Dr Radulescu said:
"Taking part in the programme was a great opportunity to bring my academic interests to a wider audience in a new way, which viewers will find interesting. Students of the Arthurian legend and the general public alike will be surprised by the discoveries in this programme, which testify to the spread and depth of interest in Arthurian stories in Britain and beyond."


Publication date: 12 July 2012