Bangor's IEEE student branch holds its second guest lecture
The second Bangor University IEEE student branch guest lecture took place online on the 24th February 2021. Over thirty students participated in the event and listened to two talks. Shaun Preston (Creo medical) and Pete Doggart (B-Secur and ACE45) talked about their experiences moving from academia to industry.
Shaun Preston graduated with a PhD after researching a novel coaxial structure and its use in haemostatic instruments. He is now a Head of Instrument Development at Creo Medical after being project lead working on bringing their 'Microblate Fine' product to market. Shaun talked about moving his expertise developed during the research of his PhD into a commercial and well-regulated environment. Shaun said "My PhD gave me the opportunity to learn how to perform research and approach problems in a different way, in fact the software that I learned whilst at University is something I use every day. We have developed an endoscopic device which is used with endoscopic ultrasound technology. It enables surgeons to apply energy to effect a multitude of clinical outcomes".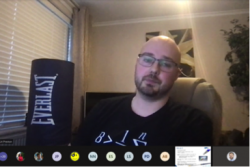 Pete Doggart graduated from Bangor with a MEng in Computer Systems Engineering. Since moving to industry, he has worked with Jaguar Land Rover on vehicle communications and now he leads a small team of experienced engineers and PhDs as well as co-founding a new business. Pete said "It was a delight to speak at the virtual event. There are many skills that I learnt when I was at Bangor, which I now apply in my daily life. Yet, I have done so much more learning since then too! When I was a student, I didn't realise the importance of non-technical skills to my future career. I learned working in industry, that knowing how people operate is equally important as technical know-how. I was glad to share my personal experiences and I hope that the talk was useful, and I wish everyone every success with their future careers."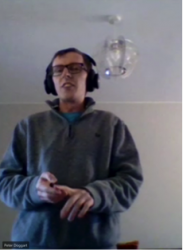 The
IEEE student branch
provides opportunities for students to meet and build a community of peers. The branch helps to bring together students, fellow IEEE members, and engage with professional IEEE members locally.
Publication date: 9 March 2021