Bangor's Santander Entrepreneurs
Undergraduate student Catrin Hicks of Blaenau Ffestiniog and a team of postgraduate students have won the Bangor University round of the Santander Entrepreneurship Awards and will be representing Bangor at the UK round later this year.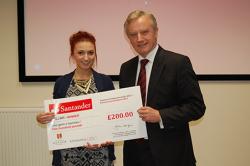 Undergraduate winner Catrin Hicks from the School of Education received her prize from the Vice-chancellor, Professor John G. Hughes.Theirs were among eleven business ideas 'pitched' to a panel of judges recently. Having been tasked by the B-Enterprising team in the University's Careers & Employability Service to come up with an innovative business idea, the student teams and individuals presented a wide range of new products and services that they had researched and developed.
The judges awarded top prizes of £200 to the best undergraduate and postgraduate students and £50 to two second places.
In announcing the winners, Vice Chancellor Professor John G. Hughes said that the judges had been impressed by the quality of the projects as well as the huge amount of work done by all the competing students.
Announcing Catrin Hicks from Blaenau Ffestiniog as the undergraduate winner, the Vice-Chancellor noted her excellent presentation, and how the judges had been impressed by the huge amount of background research that had gone into developing her new product. Runner-up in the undergraduate category was Daniel Moore of Penmaenmawr.
Product Design student Catrin Hicks developed a new false eyelash applicator. Catrin had identified that many consumers find difficulty in applying false eyelashes, a product which has major commercial opportunities, but also potential health risks involved in poor application. She has developed a unique applicator device to resolve this problem.
She said that she had entered the competition for the experience and was totally surprised to have won - especially having watched the other presentations. She said: "Taking part, I have learnt more about preparation and researching the marketing side of product development. This experience and the feedback I've received will help me in developing my product further."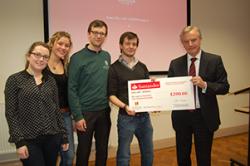 Jamie Muir, James Gudgeon, Maria O'Reilly and Theresa Schween from the Schools of Psychology and Business received their Prize from Professor John G. Hughes. Team members Declan McClelland, Ben Haines and Emma-Louise Jones were not present. A team made up of Business and Psychology students won the post-graduate prize of £200 for their franchise concept to market local real ales to a young student market. Runners up were postgraduate Business and Law students Katarzyna Kawa and Mehedi Rahim with a new targeted legal service and legal firm called R & K Legal.
Theresa Schween, a member of the winning team said "It was very inspiring to hear what great ideas the other participants came up with. We were also all impressed with the presentation skills of everyone involved. After a huge amount of work we put into our project, Thirst Glass HONOURS, it was a great reward! And who else can say with a clear conscience that the prize will entirely be spent on beer?!"
Team members Jamie Muir, James Gudgeon, Maria O'Reilly and Theresa Schween (pictured) and Declan McClelland, Ben Haines and Emma-Louise Jones have developed a franchise idea to work with local breweries remarketing their ales under a new brand aimed at attracting a younger student market to a product traditionally marketed at the older male.
Awarding the prizes to the winning entries, Vice-Chancellor Professor John G. Hughes said, "All the judges were impressed by the ideas and enthusiasm shown by the competition entrants. The quality of the business ideas was excellent; there are some strong potential commercial products in development. My intention is to make Bangor University one of the leading institutions in the country for innovation and entrepreneurship. I'd encourage all the entrants to seek further support from the University to develop their entrepreneurial ideas."
The judging panel comprised Professor John G. Hughes, Vice-Chancellor; Dr Andy Goodman, Design Director of Pontio and Chris Walker, Director of People Systems International.
Publication date: 25 March 2013