Bangor's Students square up for further University Challenge round
Bangor University appears in the second round in the 50th anniversary series of TV's most challenging quiz show; University Challenge on BBC 2 Wales at 8.00 pm on Monday 28 January 2013.
The Bangor University team, who beat Scottish university, St Andrews by 125-105 in the opening round, was selected from over 100 students who applied to take part. They are: Bangor University Team Captain, Nina Grant, Simon Tomlinson, Mark Stevens, Adam Pearce and Team reserve, Catriona Coutts.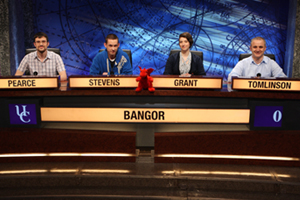 Bangor University's University Challenge Team.
Team Captain Nina said:
"I can't tell you much about how filming went, obviously! I can tell you, however, to look out for Rhodri, our lucky red dragon mascot! We hope we've done Bangor and Wales proud."
Bangor University's entry in the quiz has been organised by the University's Students' Union. Students Union President Antony Butcher said:
"I'm really pleased that our team did so well in the last programme and I'm crossing my fingers for this time! It's great that our students' are flying the flag for Bangor"


Team captain Nina Grant comes from Enfield, in London and is 26 years old. She studied A levels at both Barnet College and Westminster-Kingsway, and went to school at Palmers Green High School for Girls.
Nina says: "I wanted to join the team because I've always watched University Challenge and enjoy competitive quizzing. Taking part was a great experience. The green room atmosphere was mostly friendly and jovial, which has led to lasting friendships with other teams' members."
Welsh speaker, Adam Pearce, from Barry, south Wales, a former Ysgol Gymraeg Glantaf pupil, is reading for a PhD in Translation Studies.
He says "I wanted to be on the team as I like the show and also enjoy quizzes. Welsh universities have been poorly represented in recent years, and I wanted to redress this if at all possible! It was great fun taking part, a little intense perhaps, but if you're able to work under that pressure then you have to go for it!"
Mature student Simon Tomlinson from Manchester is studying a PhD in Neuropsychology. Prior to studying at the School of Psychology he has studied at Birkbeck University of London and Manchester and Leeds (Universities?).
Forty year old Simon says: "University Challenge is the best quiz on TV - and I've wanted to have the opportunity to take part for years. I was a bit wary as I think it should just be for young undergraduate students, but I suppose I'm flying the flag for 'mature' students".
He adds: "Jeremy Paxman is surprisingly affable. Roger Tilling has an amazing voice. The teams we met during filming were really nice. We've no idea as to how we'll come across on TV so are just hoping we look ok!"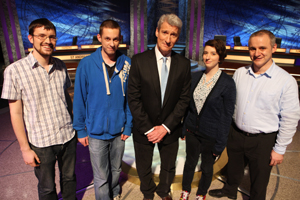 Bangor University's University Challenge Team with question master, Jeremy Paxman.
Mark Stevens is studying for an Environmental Science degree.
Catriona Coutts, from Gaerwen, is now in her second year studying English Literature with Creative Writing. She has lived on Anglesey since she was 2 and went to Ysgol David Hughes in Menai Bridge.
She said: "I wanted to join the team because I've loved watching University Challenge for years and thought the try-outs were a really great opportunity and one you only get while at university. I never expected to get through though."
"I haven't had the opportunity to take part so far as no one has been ill, but visiting the studios and see everything that goes on has been a really fun experience. Everyone working on the show is really friendly and I experienced the 'behind the scenes' stuff without the pressure of taking part! The other teams were also very friendly and there was a lot more talking and friendliness between teams than I'd expected. Watching Bangor play was incredibly nerve wracking but really exciting and I was elated when I realised the St Andrews match was over and Bangor had won. I was really proud of the team because the studio was really intimidating and they did so well to perform under that kind of pressure."
Publication date: 22 January 2013