Bangor scientists strengthen Russian links to fight climate change
S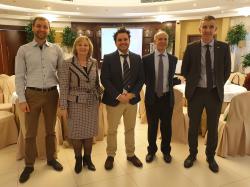 From left to right, Dr Evgeny Zarov, Yugra University; Tatiana Karminskaya, Rector of Yugra University, Dr Christian Dunn, Bangor University; Prof Chris Freeman, Bangor University and Richard Dewell the British Consulate-General.cientists from North Wales have attended a ground-breaking climate change seminar in Siberia.
Two scientists from Bangor University were invited by the British Consulate in Russia to talk about their environmental research.
The event was part of the first Science Café to be held at Yugra University in Siberia, which aims to strengthen collaboration between Russian and UK academics and universities.
Professor Chris Freeman and Dr Christian Dunn from the School of Natural Sciences at Bangor University were asked to represent Britain and talk about their research on peatland geoengineering and plastic pollution.
Prof Freeman, who appeared on Russian TV to promote the conference, said: "It was a real privilege to talk about our work and discuss with Russian colleagues how we could develop our ideas together to address some of the environmental challenges facing us.
"One of the most interesting aspects of the trip was finding out some Russian scientists have been doing similar work to us, but because of history and language issues the research groups involved weren't aware of the findings of the other."
"Events like this are the best way to break down barriers and build bridges in the scientific community and we're now looking forward to establishing long-term collaborations to maximise the research we're all doing," Prof Freeman added.
Richard Dewell the British Consulate-General, in Ekaterinburg, Siberia, opened the Science Cafe and now hopes it will inspire longer term cooperation between universities in the two countries.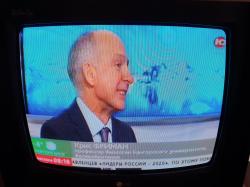 Prof Chris Freeman discussing his work on peatland geoengineering on Russian TV."We wanted to bring together scientists from Russia and Britain into one room and get them talking about the biggest environmental issues of our time," said Mr Dewell.
"Problems like climate change and plastic pollution affect the entire planet and it's only by working together we stand a chance of finding some answers," he said.
"It was great to be invite researches from Bangor University to our first Science Café in Khanty-Mansiysk and we hope they'll be back again soon," Mr Dewell added.
Dr Christian Dunn, who spoke about plastic pollution, thanked Yugra University who hosted the event and said: "Not only was it interesting to chat with Russian academics, it was fantastic to visit Siberia – which isn't on the usual tourist trail for most Brits."
"It's an amazing place though – with incredible wildlife, and we've already established field trips for our Bangor University students, starting this September, thanks to connections we made at the conference" he added.
Publication date: 15 January 2020