Bangor staff and students sample Nuclear Skills Training
Horizon Nuclear Power (a wholly owned subsidiary of Hitachi Ltd), is currently looking to invest over £10bn in a new nuclear power station at their Wylfa Newydd site, Northern Anglesey. It will provide 2,700MW of new power station capacity to the UK, enough to power around 5 million homes. Given its proximity to the University, Bangor University and Horizon have signed a Memorandum of Understanding which will enable both organizations to collaborate and work more closely together in future years.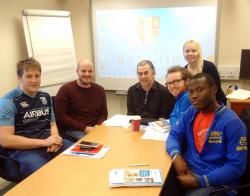 Students attending the NSAN Triple Bar Existing Nuclear Sites Training Session l-r Ilan Davies; Ben Stanley; Huw Huws; Emily; Ben McFadden; Daniel Siebadji.An important part of the agreement involves sharing and understanding the company's future workforce requirements and better preparing Bangor's students to compete for and secure professional employment, not just at Wylfa, but in the wider UK and global nuclear sector as a whole.
The great news for Bangor is that nuclear power stations need a huge range of skills from many different disciplines, physical sciences, natural sciences, health and behavioral sciences, business, administration and law, to name but a few, in their development and operation. So staff and student briefings have been provided by Horizon and other partners such as the National Skills Academy for Nuclear and the Nuclear Graduates Programme to raise awareness of the sector and its opportunities.
As part of these ongoing activities, a group of eight Bangor University staff and students recently undertook and successfully completed the tuition and assessments needed to gain the National Skills Academy for Nuclear's Triple Bar qualification for Existing Nuclear Sites. The qualification, which focuses on the basic principles of nuclear generation, health and safety and 'human behaviors', is an essential basic requirement for working on existing nuclear sites and allows the holder to access and work un-supervised on a nuclear facility.
The training was provided by Group Llandrillo Menai who is National Skills Academy for Nuclear's accredited local provider for delivering the Triple Bar.
Staff and students had a fabulous day under the leadership of tutor / trainer Mr Huw Huws who has over 30 years of experience working for Magnox in a number of roles at the original Wylfa power station.
Of the course, Ben Stanley, a final year student studying Environmental Management said:-
"the course was really educational not just for the nuclear sector but for many other day to day work scenarios …. I would highly recommended the course to anybody with an interest in the nuclear sector as it's a firm stepping stone into employment roles for sure"
And of Huw, the tutor, Ben Mc Faden (3rd year Geography Masters) and Emily Riley (3rd year Geological Oceanography commented
"Huw was an extremely knowledgeable and interesting tutor." "The course was very interactive and learning from someone that has over 30 years of experience was so beneficial. I would recommend the course because it is a great talking point on your CV and a lot of the knowledge learnt from Huw is relatable in so many different industries".
Dr Iestyn Pierce, Head of School of Electronic Engineering, who had the tables turned on him and had to sit in class and do the assessment papers alongside the students commented
"I have to admit, I was nervous, particularly in sitting the tests and having them marked openly in front of and alongside some of my own students ! The day and the course was, however, of great value to all the students providing them with an alternative, vocational perspective and flavour of the nuclear industry. It's great for their CV's and, hopefully, will assist with their future employability in any safety critical type industry or activity. This initial session was funded with some monies from HEFCW's Cadarn Skills Centre project which encourages people to undertake vocational based training. If we are able to secure funding from other potential sources, it would be great to be able to roll this out and offer it to a far greater number of students wishing to work in this field"
Publication date: 11 February 2016