Bangor Student competes for Bryn Terfel Scholarship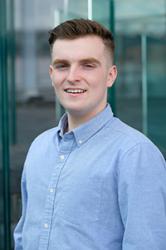 Cai Fôn DaviesA Bangor University student is competing for the Bryn Terfel Scholarship 2019.
Cai Fôn Davies, 19, from Bangor, as second year Welsh and History student, will take part in the competition on Friday, 11 October at Barry Memorial Hall.
Cai is a versatile and prolific competitor who has appeared many times on the stages of the National Eisteddfod, the Urdd Eisteddfod, the Llangollen International Eisteddfod and the Cerdd Dant Festival. Cai also represented Wales at the EUSTORY (Eustory) history conference in Berlin in November 2018, collaborating with German artistic company Vajswerk Recherchetheater in a workshop that used historical study to create a theatrical production. Cai is also a member of Aelwyd JMJ.
Former Ysgol Tryfan pupil, Cai said: "It is a privilege and an honour to have been chosen to be part of such a distinguished competition. I have already learned so much from this experience by preparing the programme, and have tried to take ownership at every stage of the journey – from the organising and creating to the performing. I'm really looking forward to performing on Friday, and I hope to impress."
The Bryn Terfel Scholarship is worth £4,000 to the winner of one of the Urdd Eisteddfod's under 25 solo competitions.
The main aim of the Scholarship is to nurture the talents of Wales's best up and coming talent and give them the opportunity to develop within their field.
Lecturer Dr Angharad Price, from the School of Welsh, said: "We are immensely proud of Cai's success at the Eisteddfod and delighted that he has been shortlisted for this year's Bryn Terfel Scholarship. He is a valued member of the student community here at the School of Welsh and Aelwyd JMJ. Good luck Cai!"
This year, to mark the 20th anniversary of the Scholarship, in partnership with Wales Arts International with support from the Welsh Government, the Urdd is announcing a new international element.
For St David's Day 2020, the winner of the 2019 Bryn Terfel Scholarship will perform in one of the world-wide celebrations for St David's Day 2020.
In the past, Dr Manon Wyn Williams who graduated with BA, MA and PhD degrees from Bangor, Huw Ynyr Evans who studied music and Gwen Elin who studied Welsh are former winners of this prestigious scholarship.
Publication date: 11 October 2019