Bangor student Elis wins the Urdd National Chair
Elis Dafydd, a Bangor University student, is the winner of the 2015 Caerphilly and District Urdd National Eisteddfod chair.
The chair is awarded to the best poem in strict or free meter, no more than 100 lines long, and this year the theme was Gwreichion (Sparks).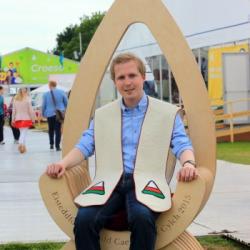 Elis, originally from Trefor near Caernarfon, was a pupil at Ysgol yr Eifl, Ysgol Glan-y-Môr and Coleg Meirion Dwyfor. He graduated from Bangor University with a degree in Welsh and is now continuing with postgraduate studies here at Bangor. He competed at the Urdd Eisteddfod under the nom de plume 'Rhys'.

Twelve competed for the chair this year, and the adjudicators, Ifan Prys and Mari George, felt that any one of the top three were deserving of the chair. However, as a result of Elis's maturity and experience, he clinched the award.
Mari George says: "Elis notes a time and a place above each of his verses taking us back and forth between Bangor and Edinburgh in the period between the lead-up to the Scottish referendum and February 2015. Love is dependent upon sparks, and this love comes and goes and is a symbol of hope and of losing hope. The poet has a good ear for the rhythm of free verse poetry and the story is told in a simple and effortless manner."
Elis came second in the Urdd Drama Medal in 2009 and he took part in the 'Her 100 Cerdd' in 2013, when four poets were challenged to write 100 poems in 24 hours. He has contributed poems and reviews to numerous publications and was guest co-editor on the latest issue of Tu Chwith, a biannual Welsh magazine that discusses culture and the arts.
Elis said, "I would like to thank all my teachers, lecturers, family and friends for their support and inspiration. I would also like to acknowledge my debt to the poets and writers who have had so much influence on my work."
Elan Grug Muse from Aelwyd Dyffryn Nantlle came second under the alias Jiskřička, with Iestyn Tyne from Aelwyd Coleg Meirion Dwyfor third, under the alias Parisien.
Publication date: 29 May 2015