Bangor Student Finalists in Climate Week Awards 2013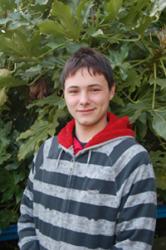 Andy O'CallaghanAndy O'Callaghan, a second year Marine Science/ Zoology student at Bangor University has been names a finalist in the upcoming Climate Week Awards 2013.
Andy, who lives in Llandudno and is 20, is part of Funky Dragon, which is the children's and young people's assembly for Wales. He is also one of the youngest members of the Climate Change Commission for Wales. He is shortlisted for the Awards in the Most Inspirational Young Person category and was nominated by Peter Davies, Chair of the Climate Commission for Wales, in recognition of his contribution to the work of the Commission over the last year.
Andy has been championing the climate change message to fellow young people across Wales as part of his role as co-chair of the Environment Priority Area at Funky Dragon. He has taken part in Commission meetings across Wales and provided a voice for youth at a Clean Revolution event aimed at the business leaders.
Andy was informed about the news of being a Climate Week Awards finalist recently. He said "I am really honoured and overwhelmed to be named as a finalist. It's great working with the Commission and the members who are so committed to sustainable development."
Explaining how he came into the role Andy said: "the Climate Change Awards have come about after a long but amazing process of youth participation. While at Ysgol John Bright High School in Llandudno, I participated in the school council. From there I went onto the Conwy Youth Council, and have now served there for four years. After my first 2 years I applied to be a Funky Dragon Co-chair for environment. Participation and the environment have always been big priorities in my life so when I joined the Climate Change Commission for Wales it gave me a boost to try even harder to influence policy and attitudes to climate change."
Peter Davies, Chair of the Climate Change Commission for Wales said "Andy and co-nominee Hannah Prydderch's involvement and membership of the Climate Change Commission for Wales is both significant and inspiring. They constantly show a level of knowledge and professionalism around climate issues far advanced from their young ages, and their views are well respected by the other members. It's great having them involved, as they help ensure the needs of young people are central to any plans we develop and the advice we give to government. This is so important and valued as we seek to build a society with sustainable development as its very core. The continued engagement of young people in climate change action is of high importance and both Hannah and Andy are making a huge contribution to this."
Andy came to study at Bangor University as he's always wanted to be a marine biologist and always aimed to study at Bangor University "because it always ranks first or second best for marine biology in the ranking tables."
He adds: "My experience of Bangor is so far a great one! The lecturers are great and it is close enough to Llandudno to enable me to live at home."
The Climate Week Awards reception and launch is held on Monday 4th March 2013 at the House of Commons.
Publication date: 4 March 2013