Bangor student launches book with vegetable orchestra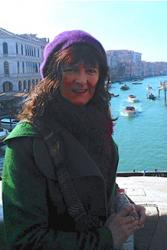 Angie RobertsMelon bongos, pepper shakers, leek violins and carrot kazoos will be just some of the musical instruments created and played by pupils of Nant y Coed Primary School at their Christmas Fair on the evening of the 2nd of December. The performance will launch an exciting new interactive e-book for children called 'Arnie Williams Talks to Veg!'
Written by Angie Roberts, the author of the BAFTA Wales winning television series, 'Jinny May', the book is a humorous and contemporary Welsh story that includes Vegetable Orchestra Audio, instructions on how to make Carrot Whistles, Onion Stalk Trumpets, Melon Drums – and a whole load of other ridiculous vegetable instruments!
Angie recently studied at Bangor University as part of the Elevate work based learning project. "I attended marketing and social media courses, both of which have really helped me with the marketing of this new book. The children's book market is very competitive so the tips and hits I picked up whilst studying on the Elevate project have helped enormously and I've been able to use my assignments to produce marketing and social media plans for the book launch" said Angie.
Angie is passionate about encouraging young people to read and 'Arnie' is designed to engage even the most reluctant young readers. The author has worked with Caernarfon based musician and composer, Neil Browning, another Elevate student, to create the sound track for the Vegetable orchestra. She has also collaborated with Llanrug artist Efa Dyfan, who worked with the school children to produce illustrations for the book.
"We're delighted that the Elevate courses have been of such benefit to Angie. The courses are designed to combine academic rigor with practical application so it's great to see that Angie is putting everything she's learnt into practice" said Nia Morgan from the Elevate project.
"'Arnie Williams Talks to Veg!' can be downloaded from the iBooks Store for the special price of £2.99. Apart from being a very good read, it also includes a Scrapbook of Inventions for children to make themselves e.g. Anti Stink Apple Dolls, Pong-Planet Mobiles, Worm Camps, Bird Cafés, Rose Petal Perfumes and, oh yes, exceedingly tasty vegetable curry!
Find out more about Angie Roberts and her stories at www.blackstarandmonkey.co.uk
Publication date: 25 November 2014