Bangor student makes Nurse of the Year Awards 2016 shortlist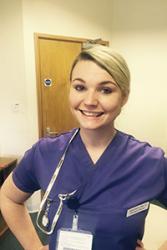 Stephanie Morris.School of Healthcare Sciences student Stephanie Morris is a Royal College of Nursing Nurse of the Year Awards 2016 Nurse Student Finalist.
Stephanie is an outstanding Adult Field BN Nursing degree student – this may be a well-worn turn of phrase, but in Stephanie's case, it is an entirely appropriate one. John Alcock, Stephanie's personal tutor and nominator said:
'I have known Stephanie since the first day of her course and you cannot miss her energy and enthusiasm for nursing and appetite for education, which positively radiates from her' – again, well-worn phrases and words, but they are entirely appropriate when describing the qualities that make her an outstanding Adult Field student. The winners of the RCN awards are selected by panels of judges - for a total of 17 awards (including Wales Nurse of the Year) - made up of distinguished nursing leaders and experts in their fields of practice.
Colleagues report how positive she is to work with and always supportive when resolving day to day matters and more strategic School, course and teaching and learning issues that we work on collaboratively with students. Students and staff collectively work together to improve student experience and to facilitate the potential for growth and development of the best possible graduate nurse students. Stephanie has been a major force in helping us achieve those goals and thus has been an influence on patient and service user care and experience."
Stephanie is no stranger to the Bangor University news pages and her volunteering work at a homeless shelter has been mentioned here before. She dedicates spare time to research and getting involved with local homeless projects. Currently, Stephanie is facilitating art therapy classes for homeless service users at a local homeless drop-in centre. This work has been funded as a research project by the Local Health Board following a competitive Dragon's Den selection process, and the aim is to improve transitions in care for homeless service users by educating nurses about homelessness to reduce stigma and discrimination – you can follow Stephanie at Health4Homeless on her Twitter handle @smooey123.
In her nomination, Dr John Alcock reported:
'Stephanie regularly attends and presents at conferences locally and nationally, for example 1000 Lives, speaking and presenting with a maturity, clarity and assuredness that I am somewhat envious of. She has played a major role as secretary in establishing the Bangor University Nursing Society, which aims to foster a positive image of nursing and education alongside a recognition of the potential that students have to offer the profession, and of the potential rewards a nursing career can offer students. She has presented work on the Student Society and the EBCD project below to large audiences (400 attendees plus) of peers and School and Local Health Board staff at the School of Healthcare Sciences conferences in 2014 & 2015, and has presented at a debate during the 2016 RCN Congress. She was secretary of the 1000Lives Quality Improvement Chapter for two years and led the campaign to get name badges for students at Bangor University, is a social media activist using Twitter, and finally (take a breath), RCN Student Committee member on the UK board representing Wales.'
To conclude, it is also worth mentioning that Stephanie is a single parent and started the course when her daughter was less than one year old, which she would regard as her most important achievement!
Professor Chris Burton, Head of School sent her his blessing saying:
'We all wish her well and she is a well-deserved nominee'.
The awards will be presented at the prestigious RCN Nurse of the Year 2016 gala dinner and celebration of nursing and midwifery Wednesday 16th November, Cardiff.
Publication date: 5 October 2016