Bangor student wins BAFTA Cymru Award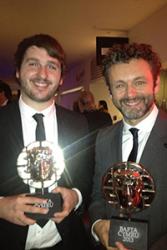 Osian Williams (left) with actor Michael SheenBangor University graduate, Osian Williams has won a British Academy Cymru Award.
His short film ,"Can i Emrys (A song for Emrys)", which he directed during his third year at Bangor University, won the award for the "Short Form" category.
Osian, 21, from Pontypridd, is continuing his education at Bangor and is currently studying for an MA in filmmaking at the School of Creative Studies and Media. He said:
"The staff at the School of Creative Studies and Media were a big help to me. They taught me how to make a film and took the time to read and help with the script.
"They showed me how to do things for myself. Winning the award shows that you don't need a big budget, a lot of experience or age to win an award. It shows that a student can do it.
"The win means everything to me, and it was the best night of my life. I didn't even think I'd be nominated for a prize for at least 10 years.
"I didn't expect to win and when I did, the person sitting next to me, Mei Williams, who won Best Director Factual and Best Photography Factual, had to shake me and direct me up to the stage.
"At the after party I met a lot of famous faces. They treated me like a part of their industry and took me seriously.
"I was congratulated by Michael Sheen, and Craig Bellamy... and was given Charlotte Church's contact details!"
The three minute documentary short about the power of music features musician Manon Llwyd, who looks back for the first time at the effects of her musical residency at a care home in north Wales.
As she performs in a one-on-one session for Emrys Roberts, 93, she plays a childhood favourite of his which as a result floods his consciousness with a range of different memories from his past.
Osian was commissioned to produce the film for Bangor University's Pontio project's first artistic residency. The film was then commissioned for broadcast by S4C and shown as part of S4C's 'Calon Cenedl' (Heart of the Nation) series last December.
Dr Llion Iwan, Content Commissioner at S4C , a former lecturer lecturer at the School of Creative Industries and Media, is very aware of Osian's talent and potential as he taught him for two years. He said:
"I encouraged Osian to keep in touch and send in films he produced. From the moment I saw his short film 'Can i Emrys' I knew this had to be commissioned for broadcast on S4C. It should be borne in mind that Osian competed against producers and companies throughout Wales for such a commission, but it was such a great standard of work, both technically and in terms of its editorial content and his vision, there wasn't a shadow of a doubt that it deserved a commission. This is quite an achievement for an university student and the film was broadcast in December last year on S4C. Osian has a very special career in front of him if he continues to develop like this, and S4C is very proud to have broadcast his short film."
Publication date: 30 September 2013