Bangor student wins European Celtic Studies Prize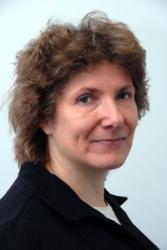 Greta AnthoonsBangor University PhD student Dr Greta Anthoons, a mature student from Belgium, has been awarded this year's European Celtic Studies Society (Societas Celtologica Europaea) Johann Kaspar Zeuss Prize. The Prize of €750 is awarded for the best dissertations at MA and PhD level in the field of Celtic Studies.
Greta Anthoons studied under Professor Raimund Karl at the School of History, Welsh History & Archaeology, and submitted her thesis in 2011 on the subject: 'Migration and elite networks as modes of cultural exchange in Iron Age Europe: a case study of contacts between the Continent and the Arras Culture'.
Professor Karl comments: "What is particularly pleasing for us at the School of History, Welsh History and Archaeology, is that it is the first time that the Johann Kaspar Zeuss Prize has been awarded to a thesis dealing with an archaeological topic, which also draws strongly on ancient historical and medieval literary sources. This serves to demonstrate the overall strength of interdisciplinary Celtic Studies at Bangor University".
Greta Anthoons works part–time at a consultancy firm in Brussels, so has time left to continue researching and furthering her studying. Having met Professor Raimund Karl at a Celtic Studies Conference, Dr Anthoons very much liked his approach of archaeology and thought it would be very stimulating to study for a PhD under his guidance. She was able to follow the PhD by working independently and coming to Bangor University a number of times a year to work in the library and to discuss her work with Professor Karl.
"He and his wife have been fantastic and I am really grateful for their hospitality. I also loved the atmosphere in the library and the helpful staff. Bangor is definitely a great place to study," she says.
She adds: "The topic of my thesis is quite international and so were the players: I am Belgian, my supervisor Austrian and I did my PhD in Wales!"
She explains that her study of the patterns of chariot burials of an Iron Age culture in East Yorkshire, reveal a strong link with the Continent. She reaches the conclusion that internationalisation is the keyword in the early third century BC, a period when ideas and technologies disseminate rapidly over very long distances; social networks become more complex and the world has become a smaller place. However, the exchanges between East Yorkshire and the Continent primarily took place in the field of ritual, and much less in other aspects of life, like weaponry or art styles. This suggests that druids and other learned men may have had a part in the introduction of new funerary practices in East Yorkshire.
"Migration was not the only type of mobility in Iron Age Europe; certain individuals travelled long distances and not necessarily for economic reasons. Social networks, and more specifically elite networks, were created through mechanisms like strategic marriages, clientship, hostageship and perhaps fosterage. When comparing the archaeological data from East Yorkshire with the evidence from various regions in northern Gaul, it becomes clear that these networks offer a satisfactory explanation."
Publication date: 25 October 2012