Bangor student wins video game award
A student at Bangor's School of Creative Studies and Media has won a £45,000 award for a game he co-developed during one of his university modules.
Leon Gartland, who is this year returning as an MA student, helped develop the game during a 'Game Design' module taught by lecturer John Finnegan earlier this year.
His production team won two prizes at the Dare to be Digital awards, one by sponsors Channel 4, and the other by Design in Action for commercial potential.
The prize money will go towards developing the game, called Pathos, for future release on the Android platform.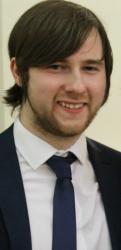 Leon Gartland
Leon said that the unique combination of modules at the School of Creative Studies and Media was a great help in developing the game.
"The 'Game Design' module with John Finnegan which taught me a lot of aspects of gaming I had never taken into consideration before," he said.
"My screen writing courses with Jamie Sherry and Mikey Murray also helped a great deal, especially with some of the narrative aspects of the game.
"The whole event was amazing and I loved every second of it, and winning the awards was great even though we honestly didn't expect it.
"However the best thing has to be meeting the other teams as they made the experience truly one of the best experiences of my life.
"The teams were from all around the world and just a great group of people and minds."
Talent and innovation
The game is a 3D isometric puzzle adventure game for mobile/handheld and is about a little girl who is in the foster care system and is trying to find her way home.Dare to be Digital is aimed at celebrating new talent and innovation in the video games industry.
John Finnegan said he was very happy to see Leon succeed.
"I always try to emphasise the importance of a professional work ethic in the classroom, to prepare students for work in the industry, as well as giving them the practical skills needed to adapt and meet challenges as they arise in these kinds of environments," he said.
"It is so rewarding to see students bringing these skills into the workplace, and this is evident throughout the school of creative studies and media. It is a testiment to Leon's talents as a game designer, and to the school as a whole."
Pathos can be followed on Twitter here: https://twitter.com/pathosgame
Publication date: 11 September 2015