Bangor Student Wins Welsh Agriculture Student of the Year for second year in succession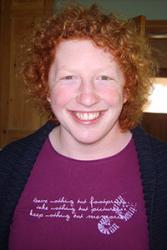 Holly is the latest Bangor student to win the Welsh Agricultural Student Award.A Bangor University student is to receive the Richard Phillips Agricultural Student of the Year Award, presented annually at the Royal Welsh Show to the best agricultural student studying in Wales.
Twenty-three year old Holly Pratt will receive the Award on the Monday of the Show (2.20pm 21.7.14), the second year in succession that a Bangor student is receiving the Award.
Holly has just completed a BSc degree in Agriculture, Conservation and Environment at Bangor University, and has just finished her fourth year, having taken a year out in industry, working at Eurofins Agroscience Services. She begins her new career as an assistant agronomist at Eurofins Agroscience Services, at Bishop Burton, in East Yorkshire on their graduate recruitment programme in July.
Holly, who studied at Driffield School, in Driffield, East Yorkshire before coming to Bangor University said:
"I was thrilled to hear that I am to receive this award, and what an honour to be able to represent Bangor University. The quality of teaching at Bangor University has broadened my knowledge of the global agricultural industry. Because of this I was able to answer the questions posed in the interview both confidently and competently. I have real enthusiasm and interest of farming and conservation, and I hope that by winning the Award more youngsters, particularly girls, will be encouraged to take up a career in agriculture."
As well as being attracted to study at Bangor by University's reputation as a leader in natural science degrees, and because the range of modules offered on the course suited her requirements, Holly was also attracted to the location.
She added: "On a personal level I have thoroughly enjoyed my three years studying in Bangor, because it has allowed me to mix my studies with a range of outdoor pursuits."
Professor Morag McDonald, Head of Bangor University's School of Environment, Natural Resources & Geography congratulated Holly, saying:
"Holly is a thoroughly deserving winner of this award. She approached her studies in a highly mature manner, ensuring that she gained insight to the full spectrum of agricultural, environmental and industrial aspects to her field of study. Her endeavours were rewarded by gaining graduate employment with the company that supported her year out with industry, and she will bring real understanding of the field to a rapidly evolving world of work"
Publication date: 19 June 2014