Bangor Students aim for Cân i Gymru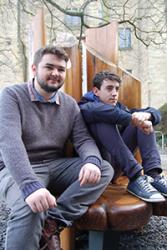 Gethin (left) & IfanWith a good track-record in the Cân i Gymru (Song for Wales) competition, following last year's success by Rhys Gwynfor and Osian Huw Williams, and Music MA students Nia Davies Williams' third place in 2012, two more Bangor University Music students have entered and have been selected for the final of the popular TV programme. The programme is to be broadcast (with subtitles) at 7.45, with a special results programme following at 9.30 on Friday 28.2.14.
Ifan Davies from Llanegryn, Tywyn and Gethin Griffiths from Bethel are the new lyricist-composer partnership.
Nineteen year old Ifan Davies, a former Coleg Meirion Dwyfor student from Llanegryn near Tywyn, explains that they liked last year's new format for the live competition programme, and that they thought the final round choices were more contemporary than in previous years. This had inspired them to get together to write a song for this year's competition.
They will be performing their song 'Dydd yn dod' (day will come) as a duet and hope to be accompanied by Welsh band Swnami- as Ifan is a member of the band.
Twenty year old Gethin, a former pupil of Ysgol Brynrefail, was responsible for the lyrics.
According to Gethin: "The song is about a personal journey of someone who has been feeling low, who realises that better times are to come."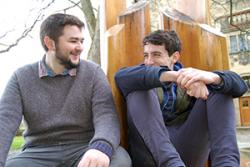 Gethin (left) & IfanIfan was mainly responsible for the music, which he describes as 'synth-pop', similar to a style currently popular on the Welsh rock scene, and he should know as the member of the group Swnami!
Ifan said:
"It's a fairly upbeat song that everyone should be able to enjoy!"
Both students are in their second year studying a single honours Music Degree at Bangor University, and are living in the University's John Morris Jones hall of residence. This is the first time they've co-written a song, though they often perform together at 'open mike' events.
Though Gethin is feeling a little apprehensive, he's looking forward to competing on the big night.
He said: "We're delighted to be one of the six finalists in the televised programme out of the numbers who competed, and we'll see what the outcome will be!"
He added: "I chose to study at Bangor University because of the opportunity to study a high quality course in Welsh. The best thing about the University is that everything is available in Welsh."
Ifan said: "Competing in an exciting experience, but whatever happens, it's likely that Gethin and I will be jamming together in the near future."
About the University he said: "The best thing about Bangor is the social life of course! But being able to student Music through Welsh is important to me and the wide range of modules is great! I chose to study at Bangor because living a social and educational life through the Welsh language are important to me."


Publication date: 24 February 2014