Bangor Students' Big Ideas
Six Bangor University students and their business ideas have reached the final round of a national competition that promotes and celebrates entrepreneurship amongst young people. The novel and varied business ideas include a reusable nappy made from bamboo fibre as well as a social project that teaches children about conservation by having them construct little houses for hedgehogs!
Big Ideas Wales aims to showcase the business and entrepreneurial ideas of 16 - 25 year olds and encourage them to develop those ideas further by offering them practical support packages. Big Ideas Wales, a programme established in 2016 by the Welsh Government, will have its final round at Bangor University on 22 March and will see the young finalists showcasing their ideas to an audience that will be full of representatives from the various sectors and industries of Wales. The final will feature speakers with direct experience of venturing into – and succeeding in – business and they too will announce winners at the awards presentation evening. Individual awards will be given for the best individual business ideas and to those that have had a real impact on communities and the environment in Wales, as well as rewards for team efforts.
With specific programmes tailored to realise student business ideas such as Enterprise By Design and by the work of the B-Enterprising unit, it is not surprising to see the names of six BangorUniversity students among the finalists at this year's Big Ideas Wales competition.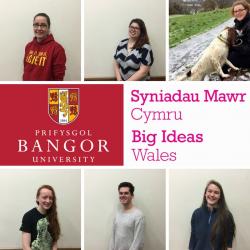 Here's a look at the six business ideas that have made it to the final round:
Name: Rhiannon Williams
Age: 21
Course: Zoology with Herpetology
Business idea: Babanod Bambŵ
Reusable nappies are becoming more popular due to concerns over the environmental effects and cost of disposable nappies. Bamboo fibre reusable nappies are absorbent and hypo-allergenic. Bamboo absorbs large amounts of CO2 and requires less water than most plants to grow.
Babanod Bambŵ will manufacture using fibre made through mechanical processing. Bamboo will be sourced ethically via farming co-operatives and manufacturing outsourced to a Ugandan company, making it sustainable and Fair Trade.
Name: Jenny Light-Hook
Age: 22
Course: BA Primary Education with QTS
Business Idea: Paws & Claws Pet Services
A pet-sitting and dog-walking business during holiday times, offering a high standard of service to customers and their pets.
Name: Joe Kaufman
Age: 20
Course: Zoology with Marine Zoology
Business Idea: Take The Sting Out
An environmentally-friendly protein supplement made from jellyfish, a source of huge problems to ecosystems due to their overpopulation.
Name: Jemima Letts
Age: 20
Course: Forestry
Business idea: Tree Sparks
Tree Sparks is a social enterprise which wants to ignite conversation about trees. Tree Sparks want to run careers sessions for 15-19-year-olds to increase their environmental awareness and to show them that careers in the forestry and environmental sector are both viable and rewarding.
Name: Bethany Fox
Age: 20
Course: Zoology
Business idea: VIP Animal Boarding
VIP Animal boarding for cats, dogs, rabbits and rodents, offering a luxury boarding experience for pampered pets.
Name: Alana Nicol
Age: 21
Course: Zoology with Conservation
Business idea: Hedgehog Hotel
A project to encourage children to learn about conservation by providing them with small workshops where they can build their own hedgehog houses. These houses can later be placed in the children's' garden or in a local botanical garden/reserve.
Bidding good luck to the six finalists, Bangor University Enterprise Projects Manager, Lowri Owen, said:
"The University is committed to supporting our students to develop their enterprising skills and providing them with as many opportunities to do so. We're very proud to have so many Bangor University students represented at the Final of Big Ideas Wales Celebrated. They've worked extremely hard on developing their business ideas and we're grateful to the lecturers and business mentors who've helped them on the start of their entrepreneurial journey."
For more information on Big Ideas Wales, visit:
https://businesswales.gov.wales/bigideas/
Publication date: 21 March 2018