Bangor students celebrate success at famous Telders Moot Court competition
A team of Law students from Bangor University is celebrating success at a world-renowned competition for law students.
Cathal McCabe, Adam Gulliver, Damian Etone and Andrew Jones made history this month when they became the first team ever to represent Wales at the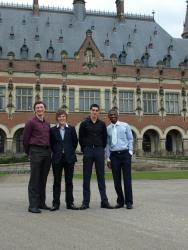 The successful Bangor Telders Team outside The Hague. L-R: Cathal McCabe, Adam Gulliver, Andrew Jones and Damian Etone.Telders International Law Moot Court contest. Held annually at The Hague in the Netherlands, it is the most famous international law competition in Europe.
Although a Dutch team from Leiden University eventually won the final, Bangor Law School was this year's best performing British team, reaching the semi-final rounds. Impressively, they came fourth out of 25 in the oral rounds for the applicant sides.
During the three-day contest, the Welsh representatives faced teams from Norway, Scotland, Serbia and Bulgaria to plead a fictitious legal case, 'The Varsho River Dispute', in simulated court proceedings. The case involved a variety of public international law issues, including territorial disputes, treaty interpretation, shale gas mining and the law concerning transboundary pollution, environmental impact assessments, as well as the rights of future generations.
Among those judging the Welsh team were representatives from the Dutch Ministry of Foreign Affairs, the Organisation for the Prohibition of Chemical Weapons, the International Criminal Court, and many more.
Participant Adam Gulliver, a student on the 2-Year LLB, remarked that the opportunity was an exceptionally rewarding experience for all involved. "The chance to meet and perform our arguments in front of some of the world's most brilliant academics was unique and truly unparalleled. Meeting other law students from all over Europe was refreshing and interesting. Undoubtedly, my public speaking skills have developed leaps and bounds, as has my knowledge of international law, which was next to nothing at the start of the competition."
LLM International Criminal Law and Human Rights Law student Cathal McCabe added: "we are extremely grateful to everyone who has helped and supported us through the months of preparation, especially our coaches, who have helped us every step of the way."
"It was fantastic to see so many talented teams compete with such enthusiasm and competence", commented Dr Evelyne Schmid, who co-coached the team along with fellow law lecturer Yvonne McDermott. "The level of the competition was excellent and I am very proud to have accompanied the first Welsh team to The Hague. The students have put Wales on the map for one of Europe's most exciting law events."
The Bangor Telders Team wish to thank all those who supported the team in both their fundraising and training. In particular, they wish to thank the following donors for their generosity in helping them meet their financial target:

Professor Suzannah Linton
Daniel Mburu
Yvonne McDermott
Monalisa Odibo


Publication date: 3 May 2013