Bangor Students perform at the Edinburgh Fringe Festival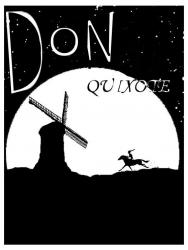 Artwork by Nathan MooreStudents and graduates from Bangor University will have the incredible opportunity of performing at the largest arts festival in the world this month.
BEDS (Bangor English Dramatic Society), winners of 'Best Performance' at the Bangor University Society Awards for two years running, will perform a comedic reimagining of Miguel de Cervantes' classic novel Don Quixote from the 11th – 23rd August (except the 17th) at the Edinburgh Festival Fringe.
Don Quixote was published in two volumes in 1605 and 1615, and is considered to be one of the most influential works of Spanish literature, as well as a foundational text in modern Western literature. The original novel follows the adventures of Alonso Quixiano, who reads so many chivalric novels that he sets out to become a knight, proclaiming himself Don Quixote.
Directed by Sam Clark and Becki Moss, BEDS' adaptation follows a similar premise, as a self-proclaimed, bumbling Don Quixote, inadequately assisted by his companion Sancho Panza, sets out to find his lost love Dulcinea. Along the way, Don must battle between two clashing worlds: reality and fiction.
Don Quixote will be played by Zoology student and David Attenborough admirer Andrew Hull, who visited Edinburgh with BEDS last year, and said "This is an amazing opportunity to improve on our work from previous years and we hope to make Bangor proud. A lot of time, effort and money has gone into this and we're sure it'll be worth it."
Recent English Literature graduates Daniel Chadwick and Imogen Rowe play Sancho Panza and Dulcinea, respectively. The supporting cast are Leila Gwynne, Edward Lang-Whiston, and Asher-Megan Humphries. Behind-the-scenes support is provided by Robin Boyd and Daniel Hughes.
The performance will take place at Surgeons' Hall, Nicholson Street, at 7 pm daily and tickets cost £5. You can follow BEDS on Facebook and Twitter, and tickets can be purchased through the EdFringe website.
https://www.facebook.com/donquixote2014
https://twitter.com/BEDS_At_Fringe
https://tickets.edfringe.com/whats-on/don-quixote
Publication date: 8 August 2014