Bangor Students perform at the Edinburgh Fringe Festival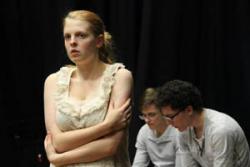 Abigail Gregory, Nathan Moore and Roddy Shaw.Students from Bangor University will have the incredible opportunity of performing at the largest arts festival in the world this month.
The group, who are part of the Bangor English Dramatic Society (BEDS), will perform an adaptation of Charlotte Perkins Gilman's The Yellow Wallpaper from the 13th - 25th August at the Edinburgh Fringe Festival. The performance will take place at The Surgeon's Hall at 2 pm daily and tickets cost £5.
The performance is based around a couple on holiday in the country who find an old diary in the house where they are staying. The diary, written by a woman who stayed there many decades previously, describes her being sent there by her doctor and husband as a cure for a hysteric condition. The weeks pass and her diary entries become increasingly erratic and irrational, and she starts to fantasise about the world around her. Eventually, they start to wonder if the very thing designed to cure her, may actually be driving her mad.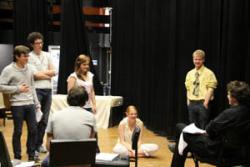 Nathan Moore, Roddy Shaw, Daniel Hughes (sat), Amy Want, Abigail Gregory (floor), Chris Davies and Seth Allan (sat).Directed by Seth Allan and Daniel Hughes, The Yellow Wallpaper is regarded as an important early work of American feminist literature, illustrating attitudes in the 19th century toward women's physical and mental health.
The cast members are Abigail Gregory, Roddy Shaw, Nathan Moore, Chris Davies and Amy Want with behind the scene support from Robin Boyd and Amy Hubbard.
Amy Hubbard said: "We have put a lot of hard work, time and money into getting here and it's been worth every second. We hope we make Bangor proud and we look forward to next year".
Follow BEDS on their Edinburgh tour through facebook.com/BEDSatEdinburgh.
Publication date: 14 August 2012