Bangor students scoop NUS Wales awards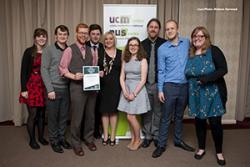 Bangor Students' Union not only won the Course Rep of the Year and Union Staff Member of the Year categories at the annual NUS Wales Awards this year, but also scooped the Higher Education Students' Union of the Year category.
The Students' Union won the Students' Union of the Year award in recognition of the Union's wide-ranging work this year. This includes an increase in clubs and societies participation, growth in the Course Representative system and the expansion of Student Volunteering.
Antony Butcher, President of Bangor Students' Union, said: "This was an absolutely fantastic night for the Union, our staff, and our wonderful students. Just to be shortlisted in four categories is a marvellous achievement, but to win three is phenomenal. This recognises the amount of work the Union has been doing for students in Bangor. I'm absolutely made up for Alison and Hannah winning their well-earned awards. To win HE Union of the Year - perhaps the most prestigious award of the night - is the cherry on an already delicious cake."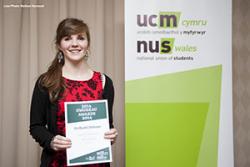 Hannah RettieHannah Rettie, 21, from Abergele, a third year student in the School of Psychology, won the 'Wise Wales Course Representative of the Year' Award. She was nominated for her work as a Course Rep in Psychology where she has increased student feedback, taking a proactive approach through on-line surveys and social media. Hannah also worked with the School on their National Student Survey action plan and has been helping to create a 'you said, we did' noticeboard in the school, which is used to tell students how their feedback is being acted upon.
Delighted with her award, Hannah said: "I am so shocked that I won this award, I really wasn't expecting it! I am so grateful for everyone that nominated me, thank you so much!
"I've been a course rep for my three years at Bangor University, and have loved the role. I really enjoy engaging with the students and staff, and it feels really good to resolve any issues that the students may have. As well as discussing any issues in the meetings, I believe it is also important to relay any praise and positives that the students express, as staff need to know when things are going right too! I have met some great people through being a course rep, and would recommend anyone who is passionate about their course and the university to become one."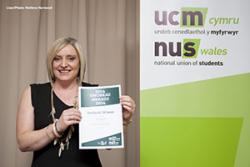 Alison RobertsAlison Roberts, a member of the Students' Union staff, won the Simpson/King Staff Member of The Year award. Alison was nominated in recognition of her MiDAS minibus testing – a role that allows students to drive SU minibuses for student-led clubs, societies and volunteering projects.
Professor Carol Tully, Pro Vice-Chancellor, said: "The SU's win is a reflection of the hard work they do on behalf of students at Bangor. We work in partnership with the SU team on a wide range of projects and we are very pleased to see this work recognised at a national level. Congratulations to all!"
Also nominated in the 'Student of the Year' category were Christopher Bibby, Masters student in the Business School, and Trefor Alun, PhD student in the School of Welsh.
Publication date: 28 March 2014