Bangor Students Start-ups Shine with Santander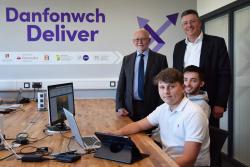 Professor Graham Upton and Matt Hutnell, Director of Santander Universities UK met with Siôn Owen and Siôn Davies of start-up business, Arfordir, who were using the entrepreneurs' shared facilities.Student entrepreneurs at Bangor University are now able to take advantage of enhanced support from Santander Universities as the University launches the Santander Enterprise Accelerator or SEA.
SEA provides a unique opportunity for Bangor University students, and encourages those who are enterprising to use their skills and ambitions to start companies in the region. The programme has a number of strands or levels of support for enterprising students and graduates wanting to develop their own businesses or projects:
Explaining the new programme available to Bangor University students and recent graduates, Bryn Jones, Head of Knowledge Exchange at Bangor University, said:
"The Santander Enterprise Accelerator has four strands, which provide different levels of support, to enable our entrepreneurs to develop their businesses. From Discover, Define, Develop through to Deliver, which includes six months at M-SParc, the University's science park, free of charge. These can all be accessed individually or progressively, as business ideas develop."
The event also marked the confirmation of Santander Universities continued support of Bangor University for another three years. This support will focus on supporting students, particularly those from a widening participation background with entrepreneurship, education and employability activities.
Matt Hutnell, Director of Santander Universities UK, said: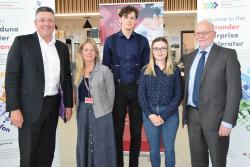 Matt Hutnell, Director of Santander Universities UK with Jan Lloyd Nicholson, John Mahon and Aneta Claridge, Bangor students who have received support from Santander Universities, and Prof Graham Upton, acting Vice-Chancellor."Santander is committed to supporting higher education as well as local communities across the UK. We are proud to continue our partnership with Bangor for a further three years and look forward to working together in providing even more opportunities which will benefit both students and the local community over the coming years."
Professor Graham Upton, Interim Vice Chancellor for Bangor University, noted Bangor University's support and encouragement of entrepreneurship among its students, saying:
"We place great emphasis on employability skills and already have a number of projects, modules and support schemes to encourage students to become entrepreneurial. SEA and the opportunity to work at M-SParc gives something extra to those students who choose Bangor for their studies. I'm pleased that Santander Universities are supporting Bangor students in this way and delighted to learn that some of our graduates are now starting to find employment with tenant companies at M-SParc."
Pryderi ap Rhisiart, Managing Director of M-SParc, said:
"We are really passionate about ensuring students get the most out of M-SParc. We've been giving internships to Bangor University students since before the building opened, and our tenants have now started provided internship and work placements. The Santander Accelerator scheme is the next rung on the ladder, and we hope being at M-SParc to develop their companies will give the students a feeling of belonging in the entrepreneurial world. Once they graduate, we hope to give space to those who could locate full time at M-SParc, ensuring that they make a lasting impact in the region."
Jan Lloyd-Nicholson a mature third year Psychology student has received support from Santander and spoke at the launch. In addition to her studies and parental duties, Jan is developing 'Henry's cushion' an autistic support and educational aid.
She says: "The University has been extremely supportive. I have had and still do receive support from Student Services and I have a mentor. My future plans involve the development of my product. I want to set up a business and watch it grow. I am so proud of my son, who designed the cushion, the fact that it has now own three awards, and am excited to take my product further."
Santander, through its Santander Universities division, maintains partnerships with over 1,200 academic institutions in 20 countries. Santander Universities was introduced in the UK in 2007 and the bank now has partnerships with over 80 universities, providing over £10m of funding in 2018 to support university staff and students.
Publication date: 20 May 2019