Bangor Uni in Top 50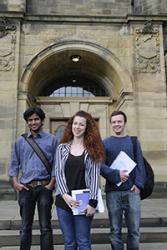 Bangor University has leapt up the tables to be placed among the UK's top 50 best Universities according to The Times and The Sunday Times Good University Guide 2015.
This follows hard on the heels of the recent NSS national Student Survey results which placed the University at best in Wales for student satisfaction.
Vice-Chancellor Professor John G Hughes greeted the news saying:
"We have a 130 year tradition of providing excellent teaching and student care, and we take great pride in the quality of both our teaching and our research at Bangor University.
We've recently introduced initiatives to give students a stronger voice in the University, and the success of our approach is reflected in this Guide."
Professor Oliver Turnbull, Pro Vice-Chancellor (Teaching & Learning) said:
"There are many things that students need to consider when choosing a university, including league tables. However, we always suggest that students do their own research and actually visit their short-listed Universities. We hope our entry in this Guide encourages students to visit Bangor for one of our Open Days in October. Seeing a place in person makes all the difference to any decision."
The main supplement will be published on Sunday 21 September 2014 in The Sunday Times and follow-up supplements/articles will appear in The Times from Monday to Thursday.
Publication date: 19 September 2014