Bangor Uni on 10 Shortlists for Whatuni Student Choice Awards 2017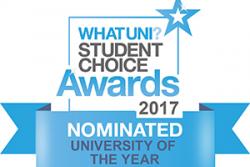 Staff and students will find out this evening whether they are to win any of the ten Awards for which the University has been shortlisted.
The University appears on ten of the 12 shortlists for this year's Whatuni Student Choice Awards 2017, with the nominations based on the excellent reviews and opinions of the University's own students.
While 44 universities in total have received a nomination in one of the 12 categories, Bangor University has been nominated for more Awards than any other University.
The University currently holds the Award for Best University Accommodation and has been nominated in this Year's awards for:
University of the Year
Student Support
Job Prospects
Clubs & Societies
Uni Facilities
Accommodation
Course & Lecturers
International
As well as in two new categories:
Postgraduate, which is decided in the same way as the International category, and
Giving Back, for which students were asked to rate their university on how much they give back to the community, whether that be globally or locally.
The Whatuni Student Rankings are based on averages taken from tens of thousands of reviews submitted by students and published on Whatuni.com.
Professor John G Hughes, the University's Vice-Chancellor, welcomed the news saying:
"Being nominated for ten awards on the strength of our students' responses is a resounding endorsement from our students and reflects our focus on providing teaching excellence and all-round student-centred university experience. I'm pleased that our current students appreciate their time in Bangor and that so many choose to take such an active part in the life of the University."
Professor Carol Tully, Pro Vice-Chancellor (Students), said: "We enjoy a close working relationship with our students and partner with them to constantly improve their experience at Bangor University. We are also extremely proud of the support provided for our students by our staff across the University who work tirelessly to make the student experience at Bangor so special."
As well as bringing home an Award last year, the University was placed second in the UK for Courses and Lectures and third in the UK in the Student Support category and fourth in the overall University of the Year category.
Marcella Collins, Managing Director UK, of Whatuni.com parent company Hotcourses Group, added: "One of the most common criticisms we hear from students is that it's too difficult to navigate the HE landscape, so this has become our driving force. We present critical data to students in a way that's easy for them to understand and helps them make life-changing educational choices.
In support of this, we're thrilled to introduce two new categories to further guide prospective students on university factors which they have told us are important to them.
The official 2017 Whatuni Student Rankings will be announced on this evening (6 of April) at a ceremony in London. You can follow all the action on the night with the hashtag #WUSCA.
Publication date: 3 March 2017