Bangor Uni on 8 Shortlists for Whatuni Student Choice Awards 2018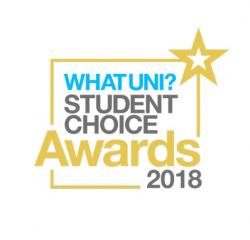 Bangor University has been shortlisted for 8 of 12 Awards in this year's Whatuni Student Choice Awards 2018, with the nominations based on the excellent reviews and opinions of the University's own students.
The University currently holds the 2017 Award for Best University Clubs and Societies and has been nominated in this Year's awards for:
Accommodation
Clubs & Societies
Courses & Lecturers
Giving Back
International
Job Prospects
Student Support
Overall University of the Year
The Whatuni Student Rankings are based on averages taken from tens of thousands of reviews submitted by students and published on Whatuni.com.
Professor John G Hughes, the University's Vice-Chancellor, welcomed the news saying:
"I'm delighted that our students have again this year shown their support and appreciation for the education and experience offered at Bangor. This reflects our focus on providing world-class teaching and research and an all-round student-centred university experience."
Professor Carol Tully, Pro Vice-Chancellor (Students), said:
"We're extremely proud of our relationship with our students and work in partnership with them to ensure that their time at Bangor University is both enjoyable and rewarding. It's wonderful to see the hard work done across the University and the SU acknowledged in this way once again."
As well as bringing home an Award last year, the University was placed third in the UK for Courses and Lectures, third in the UK in the Giving Back category and third in the overall University of the Year category.
Eleni Cashell, Editor of Whatuni, "Being nominated for an award is a huge achievement, because the only judges at the WUSCAs are the students themselves. It showcases to both prospective students and the higher education sector that your institution offers value for money, provides a good student experience and has a highly satisfied and supported student community.
Jonah Duffin, Chief Marketing Officer of Whatuni.com parent company Hotcourses Group, "Nothing sells the value of an institution to prospective students more than hearing from current students how fantastic their university experience is. This nomination is an invaluable marketing tool."
The official 2018 Whatuni Student Rankings will be announced on 19th of April at a ceremony in London. You can follow all the action on the night with the hashtag #WUSCA.
Publication date: 7 March 2018