Bangor University Alumnus wins the main poetry award at Eisteddfod T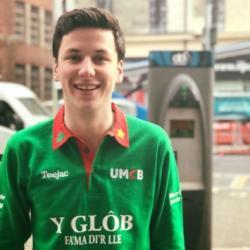 Osian OwenOn the final day of the first ever digital Eisteddfod T, it was revealed that the winner of the main award for poetry is Osian Wyn Owen from Felinheli.
A familiar face to the Urdd, he was the winner of the Chair at the Urdd National Eisteddfod, Brecon and Radnorshire in 2018. Osian has had further cause to celebrate this week as he came third in the literary award competition yesterday. He is also one of the few to achieve a 'double', winning the crown and chair at the 2018 Lampeter Inter-Colleges Eisteddfod.
Originally from Felinheli, Osian now lives in Caernarfon with friend and fellow poet Caryl Bryn and their cat, Grês Elin. He should be graduating with an MA from the School of Welsh and Celtic Studies next month but due to the circumstances, this has been postponed.
His main interests are writing and politics, and has enjoyed his recent free time to watch old broadcasts of political elections and referendums, and in his own words "feels like a real nerd"! He has also been enjoying weekly virtual rehearsals with the Côr Dre choir.
Currently, he is throwing himself into his new job as a press officer, and is enjoying teaching cynghanedd to a very enthusiastic virtual class, having learned the craft himself from poets Gruffudd Antur and Rhys Iorwerth.
In his critique, Aneirin Karadog said: "'Clustog' (the pseudonym used by Osian)'s 'Y Beic' stood out at the first reading, not only because it was a different topic to the rest of the entries but also because of its mature and masterful voice, singing from the heart - it touched my heart.
"In a popular competition of a really high standard, 'Clustog' deserves all the glory that comes with the award."
Related stories:
Graduation Profile: Osian Wyn Owen – BA Welsh
Osian wins Urdd Eisteddfod 2018 chair
Publication date: 29 May 2020