Bangor University among Europe's best universities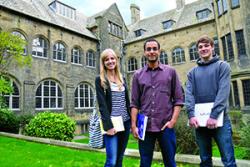 Bangor University is one of the best universities in Europe according to a table published today (10 March 2016) by the Times Higher Education magazine.
With Cardiff University the only Welsh higher education institution appearing above Bangor University in the table, which places Bangor in the 151-160 group, this is further confirmation of Bangor University's growing international stature.
This latest table ranks the 200 top European Universities according to their teaching environment, research environment, research influence, industry income and international outlook.
Welcoming the latest news, Vice-Chancellor Professor John G Hughes said:
"Bangor University is really making its mark in Europe. We provide an unique experience to all our UK, European and international students and exchange students. One of our current aims is to increase opportunities for our own students to experience working and studying abroad, while we feel that providing a multi-cultural campus enriches everybody's educational experience.
Our vision is to be a leading University with an international reputation for teaching and research, promoting and exporting our own and the region's capabilities and values.
"The large presence of so many top-tier UK universities in the Times Higher list of the 200 leading European universities also underlines the high regard with which our universities are held within the wider European higher education sector."
Only in January, the University was named among the 200 most international universities globally and the most international university in Wales. The University also appears among the top 350 world Universities in the Times Higher Education World University Rankings.
Phil Baty, editor, THE World University Rankings, said:
"The new Times Higher Education European University Ranking is based on the same rigorous and exacting group of 13 performance indicators used to compile the overall Times Higher Education World University Rankings, so it is a great achievement to make this new, prestigious top 200 list."
Bangor University remains an extremely popular destination for students. Currently ranked 7th in Britain according to the WhatUni Student Choice Awards (April 2015), feedback from the University's own satisfied students has placed the University at the head of the table in Wales and in the top 10 in the UK (of the UK's non-specialist universities, the traditional institutions who offer a broad range of subjects) in the annual National Student Survey (2015).
https://www.timeshighereducation.com/best-universities-in-europe-2016
Publication date: 10 March 2016