Bangor University and Bangor Students' Union Pledge to Stamp Out Homophobia and Transphobia in Sport, Together.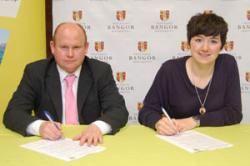 Richard Bennett (left) and Jo Caulfield sign the CharterBangor University and Bangor Students' Union have proudly declared a commitment to challenge discrimination and tackle homophobic and transphobic abuse by signing a recently-launched government charter.
Richard Bennett, Sports and Recreation Director at Bangor University and Jo Caulfield, President of Bangor Students' Union signed the Government Charter for Action and committed to working together to make sport at Bangor University a friendly and welcoming place for everyone.
Jo Caulfield, President of Bangor Students' Union said:
"We approached the University with the idea of signing the Charter together because we wanted to send a strong message to all of our students and staff about how committed we are to ensuring everyone can participate in sport without fear of prejudice. I'm delighted to be signing this today, to publicly declare that keeping our community inclusive is a priority for both the Students' Union and the University."
Richard Bennett, Director of Sport and Recreation at Bangor University said:
"We are proud to support this initiative to make sport a safer and more enjoyable environment for everyone. It is essential that we strive to make sport accessible to all and reduce any barriers that people can face. There are so many ways people are involved in sport, not just through participation but through officiating, administrating, coaching and supporting that we need to shift the sometimes outdated attitudes associated with sport and reflect our modern diverse society and increase the chance of ensuring a lifelong engagement with sport"
Home Office Minister, Lynne Featherstone said:
"There is no room for prejudice of any kind, anywhere in sport. The Government has created a Charter for Action which commits signatories to challenge discrimination and work to rid sport of homophobic and transphobic abuse both on the stands and in the field, so that everyone can take part in and enjoy sport.
"Bangor University & Bangor Students' Union have joined over 3,300 other organisations and individuals who have signed the charter so far and I thank them for their pledge. Everyone who loves sport should sign the charter and help kick homophobia and transphobia out of sport for good."
The Charter has a growing list of supporters including Ben Cohen, Billie Jean King and Martina Navratilova, Stephen Fry and David Furnish along with all football clubs in the Premier League and Football League, the Football Association, the Lawn Tennis Association, the England and Wales Cricket Board, the Rugby Football League, the Rugby Football Union and the London Organising Committee of the Olympic and Paralympics Games.Members of the public can show their support for the campaign by clicking 'like' on the 'I love sport, but hate homophobia and transphobia' Facebook page at: www.facebook.com/lgbtsportcharter.
Publication date: 1 August 2012